Posted By PAS
June 29 2015
1
Pakistan's Social Media Marketing Report – May 2015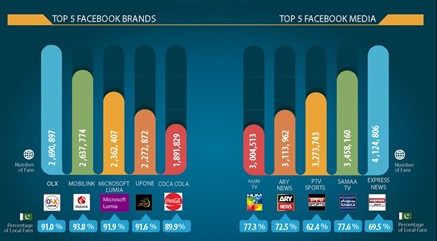 The merry month of may brings about exam-fever for the young and the countdown to the euphoria of summer holidays. The sale of drinks, ice creams, sun screen, swimming equipment and all other summer related products reaches an all -time high. In the social media world – we see most people posting about the turmoil of exams while other boast their vacation pictures. Most businesses jump to this opportunity to engage as many fans as possible in their summer related posts.
May 2015 saw a slight change in the top 5 industries with the largest number of fans. Telecom sector still retains the top spot with over 6 million fans, electronics with over 5 million fans, services with over 2 million fans, beverages with almost 2 million fans and finally retail food with 1.8 million fans.
The twitter brands with the largest audience this month are Mobilink with 320k followers, Warid with 257k followers and Telenor with 207k followers. However when it comes to fastest growing profiles – we see a slight difference as the top three in the limelight this month have been Huawei Pakistan, Pepsi Pakistan and Warid as they gained 10,035, 9,895 and 8,434 new followers this month.
On facebook the top 5 facebook brands are OLX Pakistan with over 2.6 million fans, Mobilink with also more than 2.6 million fans, Microsoft Lumia Pakistan with around 2.3 million fans, Ufone with 2.2 million fans and finally Coca-Cola with 1.9 million fans.
The top 5 media profiles in May have been; Express News with 4.1 million fans, Samaa TV with 3.4 million fans, PTV Sports with 3.2 million fans, ARY News with 3.1 million fans and HUM TV with a little over 3 million fans. However these media companies still have a long way to go before they start providing instant news on the social media similar to live TV.
Then it comes to most engaging posts on facebook; the beverages and FMCG industry has taken the lead with some interesting campaigns. MilkPak Cream stole the spotlight with the highest engagement rating of 52.28% which is mainly due to their "#IMadeIt" campaign and sharing of different recipe videos. After months of sharing exciting recipes they are now encouraging fans to share pictures of their own creations using MilkPak Cream to get the chance to win exciting prizes.
Second highest engagement is by Nesfruta (14.02%) due to a large amount of activity based on their university and college campus drive. They gave the chance to their fans on the drive to send in selfies to win a Smartphone.
Third highest engagement rating was of Lifebuoy (13.02%) due to the hype generated around the launch of their new "Lemon Fresh" campaign with quizzes, trivia and videos of their latest new lemon scented soap. Fourth highest was held by Chester Bernard (3.72%) due to their quick response service of user queries regarding their online store while fifth highest engagement rating was of Tang Pakistan (7.04%) because of their new "Love. Handmade" campaign – teaching good habits to kids, and honoring mothers on Mother's Day etc.
The most popular posts on facebook this month are by Dominos Pizza – Pakistan because of their "Share & Win" contest which allowed contestants to win discount coupons. This post received 111k interactions and an engagement rate of 29.5%. Second most popular post was made by Samsung Pakistan; This too was a contest launched to build engagement – contestants were asked to inbox videos made using their Samsung device to get the chance to win exciting prizes. This received a total of 93k interactions and had an engagement rate of 5.72%. Third most popular post was made by Jubilee Life Insurance Company Limited This subtle message on women's equality managed to gain a lot of attention from it's fans and received a total of 86k interactions and received an engagement rating of 17.0%.
This has been a month full of summer related activities and interesting campaigns and contests that received a lot of engagement on the social media. More businesses can take this as an example of how successful they can be by implementing the right social media strategy at the right time.