Posted By PAS
May 27 2015
1
Pakistan's Social Media Marketing Report – April 2015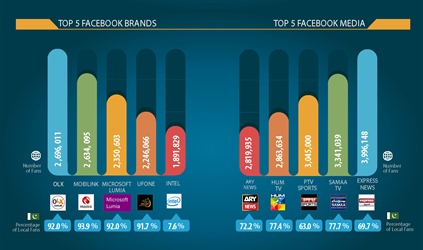 April 2015 was full of unexpected weather fluctuations – putting a damper on picnic plans and outdoor activities with spring showers and unexpected heat waves. On facebook most businesses were recovering from the annual 'fake-fan' purge and only opted for the promotion of new products rather than exciting campaigns.
This month has seen a major shift in number of fans and the top five industries on facebook with the largest number of fans are now telecom with over 6 million fans, electronics with 4 million fans, retail food with over 3 million fans, services with over 2 million fans and beverages with over 1 million fans.
The twitter brands with the largest audience are Mobilink with 313k followers, Warid with 249k followers and ufone with 204k followers. However when it comes to fastest growing profiles – we see a slight difference as the top three in the limelight this month have been Pepsi Pakistan, Mobilink and Warid as they gained 8,305, 7,053 and 7,027 new followers this month. The high number of new followers for Pepsi Pakistan this month were due to their latest video advertisement which was heavily shared by their many fans.
The top three profiles on Twitter with the largest number of followers are Imran Khan with over 2 million followers, Wasim Akram with over 1 million followers and Mubasher Lucman who also has over 1 million followers. These personalities have maintained the highest spot for a long time now.
On facebook the beverages and FMCG industry has taken the lead with some interesting campaigns. MilkPak Cream stole the spotlight with the highest engagement rating of 45.11% which is mainly due to their "#IMadeIt" campaign. After months of sharing exciting recipes they are now encouraging fans to share pictures of their own creations using MilkPak Cream to get the chance to win exciting prizes.
Second highest engagement is by Nesfruta (15.31%) due to a large amount of activity based on their university and college campus drive. They gave the chance to their fans on the drive to send in selfies to win a Smartphone.
Third highest engagement rating was of Nestle Fruita Vitals (3.98%) due to the hype generated around the launch of their latest flavor – Kinnow Nectar. Fourth highest was held by Chester Bernard (3.72%) due to their quick response service of user queries regarding their online store while fifth highest engagement rating was of Anhaar Milk (3.20%) because of the launch of their new flavored milk.
The most popular posts on facebook this month are by Pepsi Pakistan who boosted their creative new video campaign and managed to receive 116k interactions and a total of 9.61% engagement rate. Second most popular post was made by Nestle Fruita Vitals and their latest advertisement of their new flavor called Kinnow Nectar – this received 134k interactions and an ER of 12.4%. Third most popular post was made by MilkPak Cream and the launch of their #IMadeIt challenge allowing contestants to send in pictures of their creations using MilkPak Cream to win fabulous prizes. This post received over 90k interactions and had an ER of 77.8%.
This month saw a lot of interesting engaging strategies applied by different businesses the ones that stood out the most was the dish creation contest held by MilkPak Cream with the hashtag and title "#IMadeIt and interesting video advertisement by Pepsi Pakistan. This shows that any new business can capture audiences if their campaign is engaging enough or if their videos become viral.