Posted By PAS
March 27 2015
2
Pakistan's Social Media Marketing Report – Feb 2015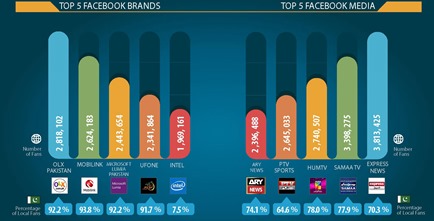 The month of February was filled with a lot of excitement for the average Pakistani Facebook user due to the start of the ICC world Cup – majority of businesses opted to post updates regarding the matches or take advantage and use the excitement to promote new deals or advertising techniques. With an access to over 16 million active Pakistani users they have a lot to opportunities to engage their fans and build their respective businesses.
This month the top three industries on facebook with the largest number of fans are fashion with 28 million total fans, beauty with 20 million fans and electronics with 17 million fans which shows that more and more Pakistanis lean towards fashion and beauty.
The twitter brands with the largest audience are Mobilink with 291k followers, Warid with 229k followers and ufone with 191k followers. However when it comes to fastest growing profiles – we see a slight difference as the top three in the limelight this month have been Mobilink, Telenor and PTCL as they gained 603, 380 and 317 new followers this month. The high number of new followers for Mobilink this month were due to their live twitter feeds of the cricket matches.
Back on facebook we can see a lot of creative campaigns carrying out this month that have known to capture audiences far and wide. Currently the brands with the highest engagement rates are Anhaar Milk with a 13.37% engagement rate because of their highly innovative "Love is…" campaign.
Second highest engagement is by Nesfruta (12.09%) due to their innovative #cricketbaazi campaign which allowed fans to share their cricket/nesfruta themed pictures for a chance to win exciting prizes.
Third highest rating was by MilkPak Cream (11.60%) which is churning butter again this month with their continuing campaign on sharing all cream related recipes on their page – This month was dedicated to winter themed delights.
The new comers this month are UBL Omni (6.41%) which managed to gain a large amount of engagement due to their cricket themed quizzes with cash prize giveaways. Vim was close behind with an engagement rate of 6.26% due to their cute and attractive mini competitions and free vim giveaways.
The most popular posts on facebook are all related to cricket this month – the top rater is Zong that posted a beautiful photograph of the cricket pitch upon which the World Cup is being played. This photo received over 108k likes, 815 comments and 938 shares. This simple photo is a testament of the power of the cricket fever that took over the fans all through February.
The second highest rated post this month was made by Head & Shoulders Pakistan which also took cricket madness to new heights by making star cricketer Shahid Afridi their brand ambassador – and his mere appearance in their post on facebook gained them 107k likes, 662 comments and 250 shares.
The third contender was from a campaign by TCS to allow one lucky TCS user to win an official Pakistani cricket jersey through a lucky draw. This post received 101k likes, 1.15k comments and 512 shares.
The power of facebook to rally sports fans was displayed this month and businesses are determined to use this power to their utmost advantage.