Posted By PAS
March 27 2015
1
Facebook Turns Messenger Into Customer-Support Line for Companies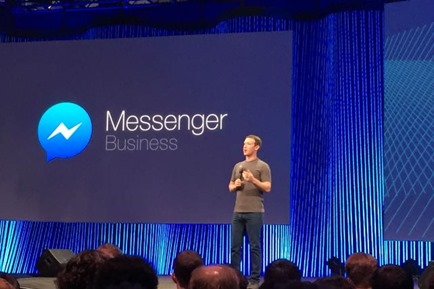 Many companies initially created Facebook Pages as an alternative to their customer support hotlines. People could post comments to brands' pages asking why a product isn't working, complaining about flight delays or checking a store's business hours.
Now Facebook wants people to use its messaging app Messenger for that kind of thing, starting with shopping.
On Wednesday, Facebook announced a new program called Messenger Business that appears designed to replace the emails and chat systems companies use for customer support. In an onstage demonstration of the program, Messenger Business lets a company deliver retail receipts and shipping updates within Messenger, and people can use the app to change their orders or even place new ones.
Retailers Everlane and Zulily are among the first companies to use Messenger Business, which will launch in the next few weeks, Facebook's VP-messaging products David Marcus said on stage at the company's annual developer's conference in San Francisco.
"We're reintroducing personal back into shopping online and on mobile," said Mr. Marcus,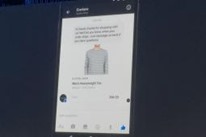 Companies can deliver order details to customers within Facebook's Messenger app.
To explain how Messenger Business works, Mr. Marcus used an example of someone buying a shirt from Everlane's site.
If someone's signed into Facebook in the same browser they're using to shop, they'll see a prompt asking if they want to receive instant shipping updates within Messenger. After the order is placed, they'll see another prompt asking if they want to receive their order details within Messenger.
With the ordering process complete, that person can open up the Messenger app and see a new message thread with Everlane. That thread will contain the order details and shipping info, and the person can check back to see the package's latest location plotted on a map. The person can also tap on the receipt to change their order within Messenger or ask Everlane if the shirt is available in another color. In the example, Everlane replied saying that the different colored shirt is available and detailing the total price to buy it. The person could click on a blue "thumbs up" button within Messenger, which effectively completes the purchase.
But Facebook isn't only opening up Messenger to businesses. The company is also turning Messenger into its own Facebook-like platform to which non-Facebook apps can post content through a program called Messenger Platform. The demonstrated examples focused on creating GIFs within an app like Giphy and clicking a button to share a GIF to a friend through Messenger.
ESPN, The Weather Channel and "Star Wars" director J.J. Abrams' production company Bad Robot are among the first 40-plus companies with apps that incorporate Messenger, Mr. Marcus said. People will be able to see a list of all the Messenger-compatible apps within Messenger and can install them through the app.
Facebook also teased a couple of new video-related products that could bolster its attempt to usurp YouTube's dominance.
The company plans to roll out support for 360-degree videos that let audiences swivel the viewport to see all angles of a scene. Facebook CEO Mark Zuckerberg referred to these 360-degree clips as "spherical" videos when making the announcement on stage on Wednesday. YouTube added support for 360-degree videos earlier this month.
And as of Wednesday, videos that are publicly posted to Facebook can now be embedded on sites outside of Facebook. Making videos embeddable and viewable outside of Facebook — particularly on news sites that contribute their own audiences — could help Facebook in its battle to rival Google's YouTube and escalate the amount of video views beyond the 3 billion a day that Facebook already generates.
Reference: AdAge