Posted By PAS
March 25 2015
4
OOH Media AdEx Report Feb 2015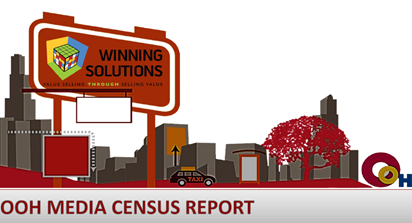 Analysis by: Winning Solutions
Winning Solutions is one of the leading market research organizations in Pakistan with operations across different cities and a spread of outdoor media tracking in over 60 cities. The Outdoor Media Ad-Ex report is based on a site census done by Winning Solutions in Top 5 cities of Pakistan in 2014 which is updated on monthly basis with Ad-Ex data collection. We cover over 5000 permanent structures and over 4500 pole signs twice a month every month. The market rates are updated and reviewed every month and aligned with average market rates for each road, section, location as well as site.
Outdoor Ad- Ex Highlight Feb 2015:
43% of the total boards remained vacant which was 1% less than last time
As we have been observing from last 2 months February was no different and Fashion category lead the market in spent, with an estimate of 158 Million
Telecom and Confectionary followed with estimated spent of 98 million and 60 million respectively.
With summers approaching and world cup fever high in the air, top 3 clients in February were Mondelez at top followed by Pepsi and Gul-Ahmed with 45, 39 and 38 Million respectively. Mondelez leading the market in spent overall as well in it's category with 73% spent.
Gul-Ahmed and J. were the major spenders in Feb, with 38 and 29 Mill spent.
Warid did some aggressive outdoor media campaigns and was second in the OOH spent this month with Telenor at 34 Million and Warid at 22Million
Unilever and P&G spent 32 Million and 18 Million respectively.
Top 5 Categories Fashion, Telecom, Confectionary, Real State, Mobile Phones
Top 5 Manufacturers, Mondelez, Pepsi, Gul Ahmed, Telenor, Continental Biscuits
Top 5 brands for February were Dairy Milk, Ideas, J., Surf Excel, Pepsi.