DIGITAL IN 2017: GLOBAL OVERVIEW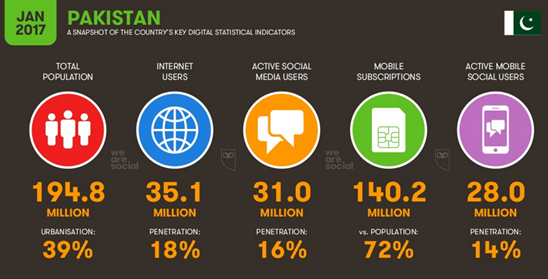 Today marks a momentous milestone for all things digital, with the new Digital in 2017 Global Overview report from We Are Social and Hootsuite revealing that more than half of the world's population now uses the internet.
Our findings have exciting implications for businesses, governments, and society in general, but they're also testament to the speed with which digital connectivity is changing the lives of people all over the world.
It's not just the internet that's growing rapidly, either; we've identified a wealth of other important milestones as part of this year's Global Digital report, including:
More than half the world now uses a smartphone;
Almost two-thirds of the world's population now has a mobile phone;
More than half of the world's web traffic now comes from mobile phones;
More than half of all mobile connections around the world are now 'broadband';
More than one in five of the world's population shopped online in the past 30 days.
Complete Report:
Global Overview
The digital world experienced spectacular growth in 2016, with the pace of change accelerating across almost all key indicators versus 2015.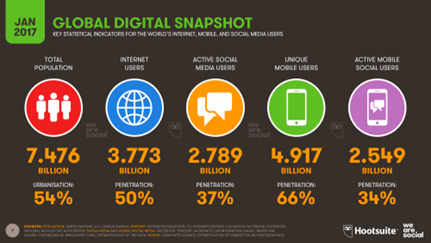 The headline numbers are:
3.77 billion global internet users in 2017, equaling 50% penetration;
2.80 billion global social media users in 2017, equaling 37% penetration;
4.92 billion global mobile users in 2017, equaling 66% penetration;
2.56 billion global mobile social media users in 2017, equaling 34% penetration;
1.61 billion global e-commerce users in 2017, equaling 22% penetration;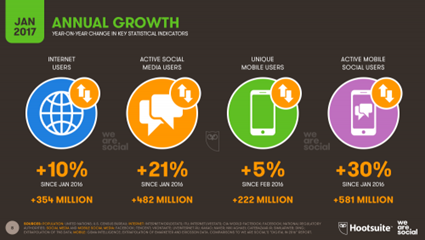 Internet users grew by slightly more than they did in 2015, while social media and mobile social media users were up by more than double the number of new users we reported last year. The rate of growth for unique mobile users increased by more than half compared to last year, with 81 million more new users in 2016 compared to the growth we reported in last year's analysis.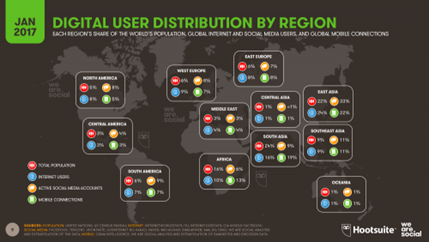 APAC is now home to more than half the world's internet users, 54% of the world's social media users, and 56% of all mobile social media users. Once again though, it's the pace of change that tells the most interesting story here: Asia-Pacific accounted for 70% of total growth in global internet users, 62% of the growth in social media users, and 64% of the growth in mobile social media users. The pace of change in APAC show no signs of slowing either, and we're confident that 2017 will be another bumper year for growth across the Far East, especially in Southeast Asia.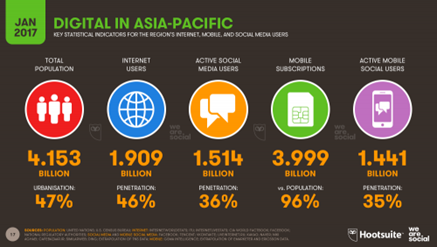 Digital growth across Asia-Pacific accelerated versus growth over the previous 12 months, with internet users up 15% year-on-year to pass the 1.9 billion mark. Social media growth rates accelerated by more than 50% versus 2015, with social media use overall up 25%, compared to 14% growth in last year's report.
More than 1.5 billion people across APAC now use social media on a monthly basis, with 95% of them accessing platforms via mobile devices – the highest ratio in the world.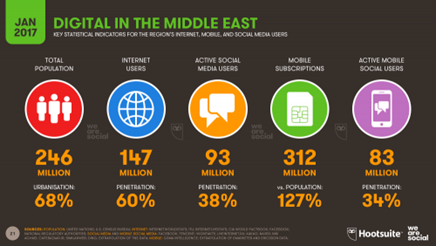 The Middle East claims top spot in this year's growth rankings though, with all key indicators showing impressive growth. Internet users are up 15% year-on-year, with the regional total rapidly approach the 150 million mark.
Social media use overall grew a staggering 47% in the past 12 months, with mobile social media up 44%. Penetration for both key social indicators remains below 40% though, so there's still plenty of room for more impressive growth in 2017.
Internet Use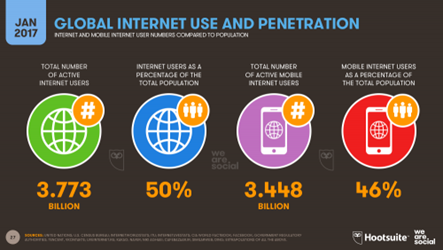 As we noted at the beginning of this analysis, the standout finding of this year's report is that more than half of the world's population now uses the internet.
What's more, the growth of internet use continues to accelerate around the world, with global user numbers up by more than 80% in the 5 years since our first Global Digital report in January 2012.
As we note every year though, the growth in reported internet users may be as much the result of more accurate and timely reporting as it is representative of the addition of 'new' users. This year's figures slightly outpace the growth in internet user numbers we reported last year though, with this year's increase of 354 million more than 20 million more than the increase of 332 million that we reported in our 2016 report.
We're also pleased to be able to offer a figure for global mobile internet use this year too, with our latest data suggesting that more than 90% of the world's internet users go online via a mobile device.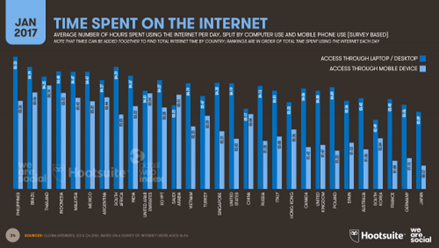 People in 9 of the countries we covered spend an average of more than eight hours each day using the internet, and it's interesting to note that all of those countries appear at the lower end of the associated economic rankings.
The combination of faster mobile connections and improved access to smartphones has delivered another of the key findings of this year's report: more than half of all web pages are now served to mobile phones.
Mobile's share of web traffic is up 30% year-on-year, with the majority of this increase coming from the world's developing economies.
Social Media Use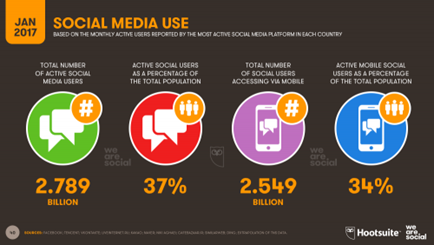 Social media use surged by more than 20% in 2016, with Facebook in particular posting impressive increases, despite already being the world's most popular social platform for the past decade.
Nearly 2.8 billion people around the world now use social media at least once a month, with more than 91% of them doing so via mobile devices.
Social media use has grown 21% year-on-year, with almost half a billion (482 million) new users signing up over the course of 2016. Just five countries accounted for more than half of that growth: China, which posted 134 million new social media users over the past 12 months, India (+55 million), Indonesia (+27 million), the USA (+22 million), and Brazil (+19 million).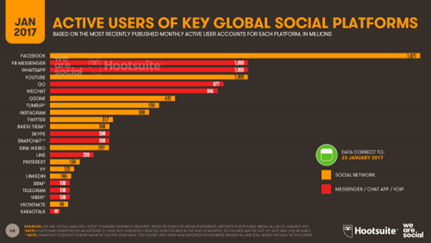 Facebook accounted for the lion's share of total social media user growth last year, increasing its global footprint by 363 million monthly active accounts in 2016, and delivering year-on-year growth of 24%. More than one billion now people use Facebook every day, meaning that more than half of all active Facebook users use the service on a daily basis.
The company's other top platforms – WhatsApp, Facebook Messenger, and Instagram – all reported strong growth over the year too, and while there's likely to be considerable user duplication across their platforms, Facebook Inc.'s combined audiences now total more than 4.37 billion.
Mobile Use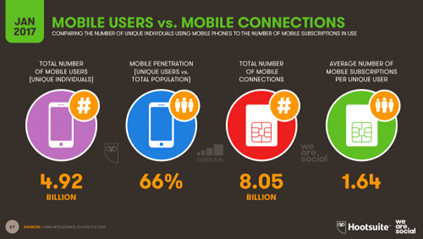 Almost three-quarters of the world's population now uses a mobile phone, with the total number of unique global mobile users rapidly approaching 5 billion.
E-Commerce Use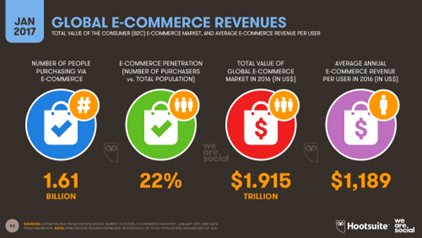 It's always tricky to put exact numbers again the value of online shopping around the world, but eMarketer estimate that there were more than 1.6 billion e-commerce shoppers worldwide in 2016, spending a combined total of close to US$2 trillion. Based on these figures, the average e-commerce shopper spent roughly US$1,189 over the course of 2016 – in other words, global e-commerce ARPU is already in excess of US$1,000.
For more details please visit: We Are Social website.