Posted By PAS
July 15 2014
0
Unilever Announces Sustainable Living Young Entrepreneur Awards 2014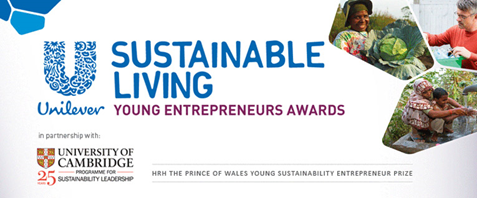 Sustainability is the term with which Unilever is adhering to conduct the results. Unilever wants young people who are practical and can come up with innovative solutions to counter the world's biggest sustainability challenges by thinking carving ideas out of the available resources and making them useful.
If you are 30 or younger than 30 then go ahead and you can win €50,000, HRH The Prince of Wales Young Sustainability Entrepreneur Prize at a prestigious dinner event in London in January 2015  and €25,000 worth of mentorship.
Unilever is looking for scalable and sustainable products, services or applications that will possibly reduce environmental impacts, improve health and well-being or enhance livelihoods through descriptive changes in approach and behaviour. And for that, they have categorized the needed solutions.
Improving Health & Well-Being: water, sanitation and hygiene nutrition
Reducing Environmental Impact: water scarcity, greenhouse gases waste, sustainable agriculture
Enhancing Livelihoods: smallholder farmers, opportunities for women, micro enterprise
A total of €200,000 for financial support and on offer availability of mentoring will be provided to the selected entrepreneurs to proportionally increase their initiatives for which they have been selected. The money will be distributed between the finalists and the winner.
Prize Distribution:
Six finalists will receive cash prizes of €10,000, along with support and mentorship (worth €10,000)
One winner will receive €50,000 cash prize and will be awarded the HRH The Prince of Wales Young Sustainability Entrepreneur Prize at a prestigious dinner event in London in January 2015 and €25,000 worth of support and mentoring.
In addition, the finalists will be invited to take part in four week online development program and then participate in a two day accelerator workshop at Cambridge University, UK. The scholarships are officially provided by Unilever and Cambridge Institute of Sustainability Leadership (CISL).
Important Dates:
Application deadline is 1 August 2014.
Seven finalists will be announced during the week of 27 October 2014.
Final judging will take place in January, 2015.
Apply online here
Last year the winner was from Indonesia and the finalists were from the American, South American, African and South Asian regions.
What's the catch for Pakistanis?
This year, Pakistan has also been invited to get benefited by Unilever. Considering the current situation of Pakistan's Entrepreneurship market and Startup ecosystem: which not to mention is growing fast and working wonders, it will be good for a local entrepreneur to get exposed to the whole spectrum of the industry.
Plus winning scholarship and taking their venture to the international level will somehow open new doors of inspiration for the country's start ups.
Though the competition will be tough and while competing with the best of the whole world its always a nerve wrecking task to stand out. Outsiders have a vast exposure to win the scholarship as compared to Pakistan, another fact is that Pakistan has not yet participated in the awards so they have no previous experience of the selection criteria which might scale back their endeavour.
But regardless of such challenges, Pakistani entrepreneurs should consider it a opportunity-to-seize for it will indeed help them to step up to the international market.