Posted By PAS
July 15 2014
0
Smart Phone Usage in Pakistan [Infographics]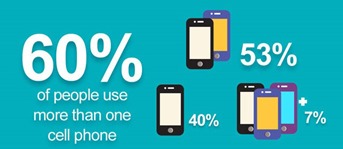 Grappetite, a mobile app development firm has released a new infographics that details the usage patterns of smartphones in Pakistan.
The infographics reveals that :
35% of the smartphone users in Pakistan carries a low cost phone on them for safety reasons.
68% of the smartphone users in Pakistan are on Android.
77 % of smartphone users are just 21 to 30 years old
60% of the Pakistani's use more than one cell phone.
Recently 3G was introduced in Pakistan and the smartphone market is rapidly expanding.
Most Pakistani marketers and business owners wonder when they should start thinking about their own app.
In the past months we have researched the smartphone market in Pakistan and combined our research with existing sources to help you making up your mind.
Samsung is said to be the most famous brand with 34 percent market share, while iPhone is popular among 24 percent smartphone users in Pakistan. 21 percent smartphone users rely on QMobile devices which is just above Nokia that holds 20% percent market-share.
According to infographic, 16% smartphone users regularly buy paid apps while remaining 84% contents with free apps.
Have a look at detailed infographic yourself: