Posted By PAS
July 27 2014
0
Jeffrey Hedberg Appointed as CEO of Mobilink
KARACHI: Mobilink Pakistan, a VimpelCom company, announced the appointment of Jeffrey Hedberg as its new Chief Executive Officer (CEO) after former chief Rashid Khan called it a day, the company said in a statement on Friday.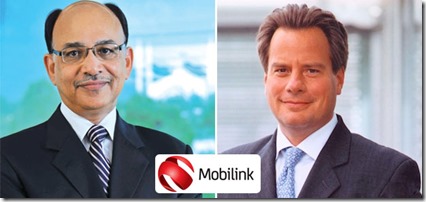 Hedberg will take the charge in early August to succeed Khan, who decided to retire after tenure of over 14 years in leading positions at the group's subsidiaries, Mobilink and Banglalink.
"The opportunity presented by Mobilink as a leader in a dynamic, growing and highly competitive market is exciting," said Hedberg in a statement. "I look forward to the challenge of improving our performance while increasing our positive impact on the market and on Pakistani society as a whole."
Mobilink, Pakistan's largest cellular company by subscriptions, gets its new chief at a time when the telecom sector begins transformation from GSM technology to the third-generation (3G) technology or mobile broadband.
It is the second high-level change in the management in a top tier telecom company as Telenor Pakistan – Mobilink's closest competition – already appointed Michael Foley as its new chief earlier this month.
"Jeffrey has very strong operational telecoms experience with specific experience of emerging markets," VimpelCom CEO Jo Lunder said. "I am very pleased he will be leading Mobilink through the next phase of development."
Hedberg has held a number of leading roles including CEO of Telkom South Africa and of Cell C, prior to which he was chairman and CEO of Deutsche Telekom USA.
"Jeffrey's in-depth knowledge of the cellular industry, proven leadership and business acumen makes him the ideal choice to lead Mobilink from the front," the company's outgoing CEO Rashid Khan said of his successor.
A veteran of the telecommunication industry, Khan has held several management positions within the cellular business arena in the emerging markets for the past 20 years, according to the press release.
Khan was appointed CEO of Mobilink in 2008, upon his return from Bangalink, where he led the business as a Managing Director and CEO. Prior to that, for almost 15 years, he worked in Silicon Valley for various international companies where he acquired extensive working experience in the technology sector.
Mobilink, under the supervision of Rashid Khan as the president, maintained its position as the leading telecommunication service provider. Mobilink's subscriber base grew from 30 million to 38 million as it launched its 3G services in all major cities across Pakistan. Other major achievements include re-branding to reflect a youthful and fresh business ideology and winning the GSMA Global Mobile Award for its SMS Based Literacy program, the press release said.