Posted By PAS
June 25 2014
0
CIMA and IBA Karachi enters into Memorandum of Understanding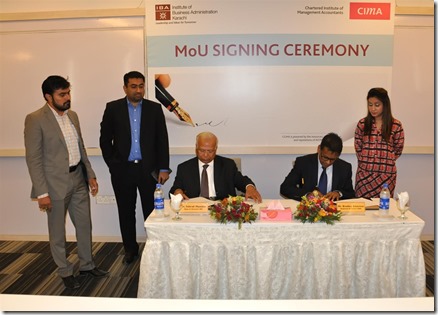 On June 20, 2014, Chartered Institute of Management Accountants (CIMA) Pakistan office and IBA Karachi, entered into a Memorandum of Understanding to combine resources and expertise to prepare students for a challenging career as qualified professional accountants.
The basic aim of this MoU is to enhance the relationship between CIMA and IBA by providing a faster track for university graduates to acquire both an accounting degree and CIMA professional qualification to enhance the quality of accounting and management education by incorporating professional requirements and needs in the programme structure
The representatives of CIMA who attended this ceremony were:
Mr. Bradley Emerson – Regional Director Middle East, South Asia and North Africa Region
Ms. Javaria Hassan – Country Manager, CIMA Pakistan
Mr. Osama Qureshi – Manager Karachi office, CIMA Pakistan
From IBA, Dean and Director, Dr. Ishrat Hussain signed the MoU on behalf of the institute. Dr. Mohammad Nishat (Professor and Associate Dean Faculty of business administration), Mr. Asad Ilyas and Mr. Sharjeel Hasnie (From Department of Accounting and Law) were also present at the ceremony.
CIMA Regional Director MESANA, Mr. Bradley Emerson speaking on the occasion said 'Businesses globally will be constrained by the supply of talent for them to sustain their businesses in the near future. Talent is a combination of competency and confidence. Pakistan which has a youthful population has the potential to supply talent to the world and educational institutes have an obligation to nurture talent. This MoU between CIMA and IBA is an initiative towards transforming Pakistan's national ability to global capability. We are pleased that IBA share the same sentiments and are committed towards youth of Pakistan. Through the BSC Accounting and Finance program, graduates will now have an Advance Diploma in Management Accounting by CIMA which will make them professionally qualified graduates'
Dr. Ishrat Hussain, Dean and Director IBA said 'IBA has been supplier of talent to the corporate sector of Pakistan. We now desire to be the choice of global employers. Students who qualify from CIMA have the potential to be entrepreneurs and this is IBA's vision as well. IBA is a business school and we don't turn out accountants, we aspire to produce business leaders, with CIMA's support we will expand in the field of management accounting. Our attempt with professional bodies is that we enhance the quality of intake as good raw material enhance quality of final product. It is not only an academic qualification that is enough but a professional qualification as well that creates a competent talent for business'.
CIMA Country Manager for Pakistan, Ms. Javaria Hassan in her address mentioned 'With this MoU, both institutions pledge to transform national graduate abilities to global capabilities by creating synergy. There is a need to move away from competition and work through collaboration. Today Pakistan witnesses an example of this where regionally acclaimed and distinguished university of Pakistan and the world's largest body of management accountants shake hands to equip the youth of nation with what is needed and demanded by the employers of the world in order to drive sustainable business success'.