Posted By PAS
June 29 2015
0
Carmudi to Sponsor NUST NAS15 Team at Formula Student Race UK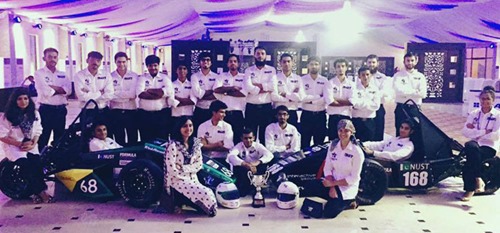 In bid to support the promotion of Auto Sports in Pakistan, online vehicle marketplace Carmudi.pk is proud to support NUST Formula Student Team as they gear up for the World's largest student motorsport competition.
Since 2012, Interactive NUST Formula Student Team has taken part in Formula Student UK, a motorsports competition organized by the Institute of Mechanical Engineers that challenges students from around the globe to design, build and race a single-seat race car in one year.
The Interactive NUST Formula Student Team built a car called the NAS15 which is set to compete against 135 teams from 28 different countries at the Formula Student competition which will be held at Silverstone, UK, from July 8 to July 12. The team will then go on to participate in the FSG from July 28th until August 2nd 2015 at Hockenheimring, Germany.
The team comprises 25 talented undergraduate engineering students who, over a span of eight months, worked tirelessly to conceive, design and build a race car that would qualify for the annual competition which is organized by the Institution of Mechanical Engineers.
Raja Murad Khan, Managing Director of Carmudi Pakistan said:
Carmudi is extremely proud and excited to support the NAS15 team. The team is incredibly talented, and we plan to support them in future competitions, as a part of Carmudi's bid to support Auto Sports in Pakistan. I am very happy to see this kind of talent and innovation coming out of students in Pakistan, I am confident that they will take this to the next level and more students will follow suit and drive growth in Pakistan. On behalf of the entire Carmudi team I wish them the best of luck.
Jon Hilton, Chairman of Formula Student said:
Formula Student is the world's most respected student motorsport event and the sheer number of applications we have received for this year's event prove it's going from strength to strength. I am delighted to see teams like Interactive NUST Formula Student Team competing in Formula Student 2015 – it shows that the competition remains one of the most important learning experiences for those aiming to combine their studies with exposure to a real world engineering project.
"Every person strives to do something for their homeland. I believe this project is the best platform where one can actually make their country proud." said Ahmed Afnan (Team Principal)
Shah Talha Sohail (Alumnus) said:
Joining hands with a like-minded enterprise such as Carmudi.pk opens new horizons for us enabling us to further our dreams.
Ahmed Waqas (Technical Director) said:
It is an unimaginable feeling of great exuberance that one feels while hoisting the Pakistan flag at the Silverstone circuit. And to see our hard work transpire into reality is, in my opinion, simply beautiful.