Best in TV – Kenwood DC Inverter AC
Best in TV – Platform Awards
Posted By PAS
February 6 2019
0 Views
Brand name
Kenwood
Campaign Title
DC Inverter A/C
Company
RNI Electrical Appliances (Pvt.) Ltd
Agency
Arey Wah
Idea Origination
Pakistan
Campaign Duration
3rd Feb 2017 – 28th Feb 2017
3rd Feb 2017 – 28th Feb 2017
The Objectives
Communication of a functional message in a subtle but engaging manner.
To reduce paid hammering on electronic media and create bigger talk ability of the campaign was another communication challenge.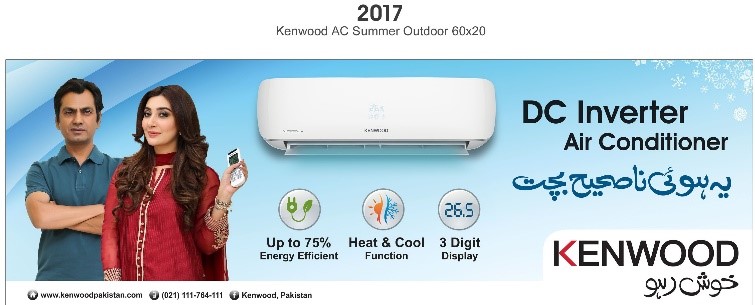 Target Audience
Males & Females 25-60, SEC AB (Urban Pakistan)
Bulls Eye: 30yrs old Males, SEC AB (Since Males have higher purchase involvement due to technical specifications i.e. Savings, cost, features, design etc.)
The Big Idea
The beauty of Machines lies in their perfection whereas of life is in the imperfections.
Creative Ideas used in the Campaign to Explain the Objectives
Kenwood focused on simple and humorous storyline along with massive appeal of Nawazuddin Siddiqui to highlight the core benefits of the product. All these factors helped us to create instant interest among the target audience.