Posted By PAS
January 30 2017
2
Alibaba testing Pakistan's e-commerce market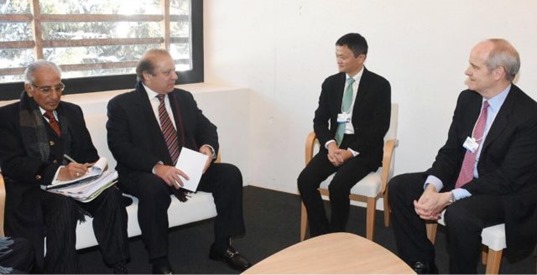 Prime Minister Muhammad Nawaz Sharif met with Chairman of Alibaba Group Mr. Jack Ma in Davos, Switzerland on the sidelines of WEF on 18th January 2017. Global e-commerce giant Alibaba Group Holding Limited, spurred by the fast-growing information technology market in Pakistan, is looking at the country with profound interest and is testing the market's response with the launch of a couple of its ventures.
Jack Ma said his country had a lot of interest in investing in Pakistan as they had closely followed positive economic developments in the country. He said China Pakistan Economic Corridor (CPEC) had provided immense opportunities for the region and added it would generate lots of economic activity.
Prime Minister Nawaz Sharif invited Jack Ma to visit Pakistan at the earliest opportunity. Jack Ma accepted the invitation and invited the Prime Minister to visit his company's hub at Ghuangzou.
Ma said that 60 million companies worldwide were benefiting at the moment. To benefit developing countries, he planned to invest in small and medium enterprises.
Alibaba is a Chinese e-commerce company that provides consumer-to-consumer, business-to-consumer and business-to-
business sales services via web portals.
It also provides electronic payment services, a shopping search engine and data-centric cloud computing services.
The group began in 1999 when Jack Ma founded the website Alibaba.com, a business-to-business portal to connect Chinese