Posted By PAS
January 21 2015
1
A Showcase of Unilever Talent Hunt's future business leader of Pakistan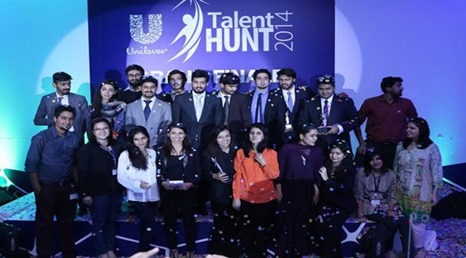 Given all the hefty decisions that today's world leaders often have to grapple with on a daily basis, it is easy to forget that they're people too. We strive to look for people who outshine in their designated fields in order to lead the way in corporate world.
How To Identify Future Leaders Early … "What's the MOST IMPORTANT thing to look for in spotting staff with partner or top executive potential?" In other words, the hunt for talent is going to reach a new high in Corporate Pakistan. The grand finale of the Unilever Talent Hunt (UTH) a business competition aimed at building a stronger employer brand amongst the best universities of Pakistan was organized at a local hotel, with students from universities across Pakistan at Unilever's Future Leader League in London.
It was in 2014 that Unilever had built the completion on the platform of the Unilever Sustainable living Plan (USLP) creating awareness and providing students with a chance to contribute to the USLP. Now this year the competition was focused on the sustainability agenda of six pivotal brands, namely Lifebuoy, Dove, Pureit, Walls, Blue Band and Surf Excel.
The big idea behind UTH 2014 was to target 11 Universities across Pakistan through campus activations. This year UTH 2014 managed to reach out to a total number of 1100 students from diverse backgrounds belonging to various fields i.e. business, fashion and engineering. Out of total 300 registrations (50 per brand) were received. Which is three times the registration from 2013. After which, a total of 13 teams were mentored by Unilever over the course of 4 weeks and provided funding to test their ideas on-ground, with only 6 teams moving onwards to the finale.
Ehsan Malik, Chairman and CEO, Unilever Pakistan Limited, highlighted "Unilever's commitment to Pakistan also extends to its people, which is why we continue to strive to make Unilever Pakistan Limited a great place to world. Now Unilever has been independently rated as the NO. 1 "Employer of Choice" in Pakistan for the 7th consecutive year in 2014, in the process further increasing our lead on the runner-up. I believe that Pakistan has some of the best talent in the world, which is reflected in the many opportunities that our local employees are offered in Unilever's business across the world".
Shafaq Omar ,Director Human Resources ,Unilever Pakistan Limited, added Pakistan "At Unilever we look for people who believe that a better world is possible and who share the vision of providing responsible leadership and sustainable business. The Unilever Talent Hunt provides the platform to identify such future leaders and showcase their talent globally."
UTH wanted a team of people having to want to learn, want to do the work correctly, care about the clients, invest of their own time on their own. People who understands value is, well, valuable: "An ethical compass on how to succeed and bring value to the table in every assignment. Not looking at 'why' but 'how' to get the assignment done and obviously the client's satisfaction is always at the top of the list." The Unilever Talent Hunt provides participants the opportunity to represent Pakistan at the Future Leader's League, a global competition bringing student together from across the world to experience the nuances of future leadership. While also getting direct access to the Unilever Future
Leaders Programs (UFLP) Assessment Center, which is a first step towards employment as a Management Trainee at Unilever in Pakistan. As someone once said "Other people follow their lead. The technical skills are obtained over time, but the soft skills, such as leadership, are tough to develop.
The ability for a staff to come in and have their peers follow their lead is a clear sign of someone who has partner potential."