Posted By PAS
November 27 2014
4
TV Advertising Analysis Monthly Report – Oct 2014
A JOINT RESEARCH STUDY OF PAS AND MEDIABANK PAKISTAN
TV MONTHLY INDUSTRY REPORT gives the overall picture of advertising on TV during the month of October 2014. It covers top advertisers, categories and brands and their % share in total advertising in terms of minutes. The report also focuses on share of TV channels, share of each genre and ad-spend split over the time slots. The report also compares % advertising in minutes done by various advertisers on YOY basis.
Total minutes of advertising: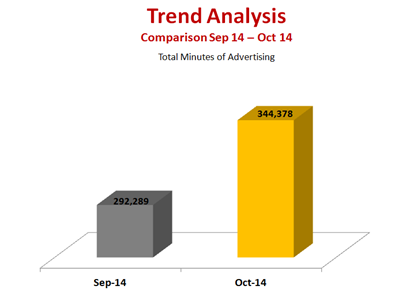 Compared to September, the total advertising minutes on TV increased by nearly 18%, whereas looking at the trend last Oct, the incremental minutes were 9.5%.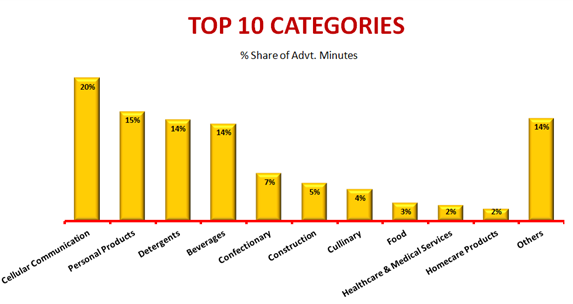 · The top three popular category on TV are Cellular Communication followed by Personal Products and Detergents amounting to a total of 49%.
· The share of Beverages dropped by 2% this month.
· The share of construction and confectionery segments increased by 3% and 5% respectively.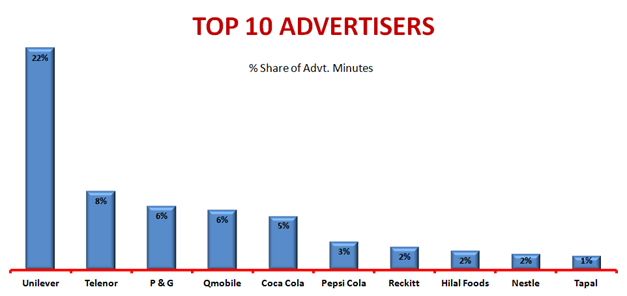 · Representation of top 10 advertisers on TV represent 57% of the total advertising share with Unilever at the top (22%), Telenor at 8% and P&G at 6% respectively.
· Share of Coca Cola remained the same as last month (5%) whereas Pepsi increased TV advertising by 1% this month.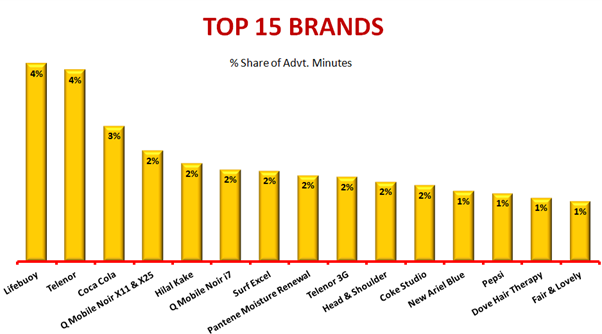 · Three brands taking top lead on TV in October include Lifebuoy, Telenor and Coca Cola whereas last month the leading brands on TV were Surf Excel, Q Mobile and Coca Cola.
· Interestingly Safeguard and Tapal did not do significant advertising in the month of October compared to September as they were not amongst top 15 brands.
· Two new brands that advertised heavily in the month of October include Hilal Kake and Fair & Lovely.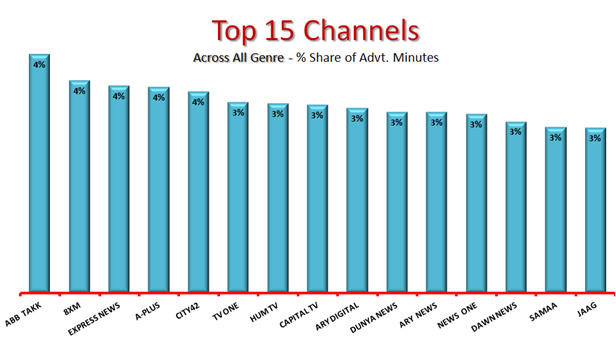 · The channels that enjoyed the highest advertising include Abb Takk, 8xm and Express News with a cumulative share of 12%. Compared to last month, the top three channels' share was 16%.
· City 42, TV One and Hum TV were other prominent channels this month.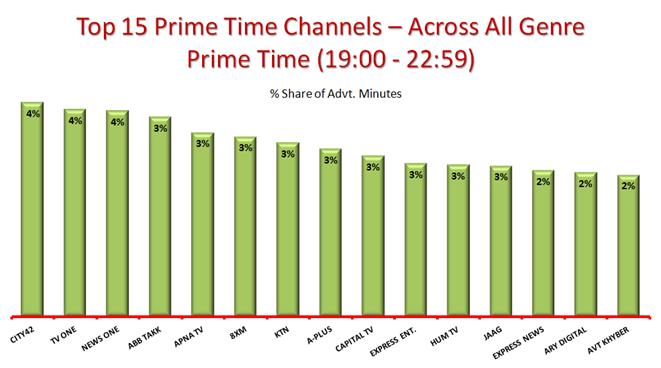 · Taking into account the prime time slot (7.00pm to 11.00pm), City 42 that was number two last month now stands at the top position followed by TV-One and News One.
· Interestingly KTN that was not a major advertiser in this slot in September, increased its advertising revenue by 4% in October 2014.
Popular segments: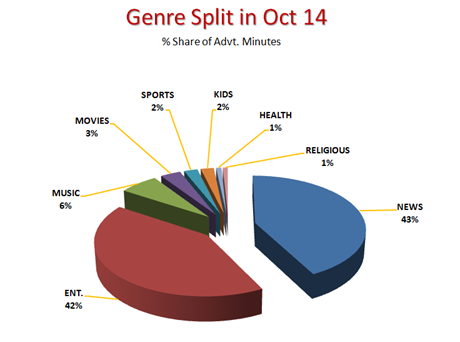 · Like always, the most popular segments that pulled heavy advertising remained News (43%) and Entertainment (42%).
· Music segment had 8% advertising share in September that dropped to 6% this month.
Complete Report: