Posted By PAS
March 27 2015
2
Standard Chartered Bank Sets Up First Digital Branch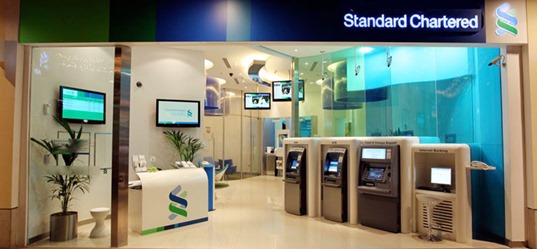 Standard Chartered Bank has set up its first digital branch in Karachi at Dolmen Mall where clients can walk into a unique experience to have banking services with online banking kiosk, ATM, CDM and CDK machines, digital product posters, electronic media wall and a touch screen notice board.
The branch contains state-of-the-art iDesk which displays a host of information for them to browse, including product promotions, brochures for the complete product suite, branch and ATM directory amongst others.
This is the first digital branch in Pakistan having services par with global standards, said an official. These branches will be set up gradually in major cities of the country including Lahore and Islamabad as per demand.
Standard Chartered Bank already set up its digital branches in many countries and now it is expanding its hi-tech branch in Pakistan which is expected to receive good response due to utility of internet services by increasing number of customers. It has already installed various hi-tech machines in various branches where customers could operate their transactions without any help of banking official.
The bank has been investing in the digital space in Pakistan whereas it is shutting down its conventional branches in many parts of the country. The bank has employed an integrated multi-channel strategy investing heavily in the digital space.
Standard Chartered is investing in the digital space in Pakistan while shutting down its conventional branches
This is part of the Bank's global focus on 'Digitisation' – socialising personal banking and extending clients' digital lifestyle into banking, claimed Shazad Dada, Chief Executive, Standard Chartered Pakistan. He added:
Today, we are the market leaders in IBFT transactions through digital channels with the best in class ATM and Online Banking solutions in the industry. Digital solutions are the future of banking and Standard Chartered is leading the way in making digital channels an important and integral part of the way clients bank

The bank's digital transactions account for a significant percentage of all transactions done in the bank today. Standard Chartered is believed to be a market leader in IBFT transactions via digital channels, along with the best in class net promoter score (NPS) in the industry on alternate channels (ATM, Phone Banking, Internet Banking).