Posted By PAS
January 30 2017
1
PEMRA issues show cause notice to Bol for defying orders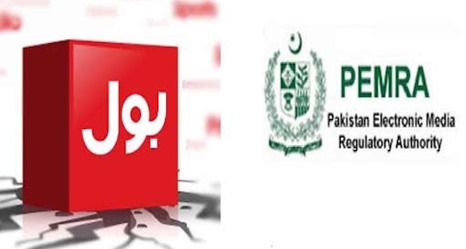 The Pakistan Electronic Media Regulatory Authority (Pemra) on Friday issued a show cause notice to Bol News for defying its ban on anchor Amir Liaquat and his programme 'Aisay Nahi Chalay Ga'.
The media watchdog had on Thursday imposed 'with immediate' a ban on the anchor and his programme for delivering hate speech.
"Aamir Liaquat not only hosted the said programme but also appeared in a promo on the TV screen the same day orders were issued and conveyed to the Bol News management," Pemra said in a statement issued a day after the ban.
It issued a show cause notice to the channel, directing it to "explain why it failed to comply with Pemra's orders of imposing complete ban on the anchor [Amir], his TV programme and on his promos with immediate effect. "
The watchdog termed the channel's decision to telecast the programme 'Aisay Nahi Chalay Ga' and allow Amir to host it 'blatant and deliberate violation' of its prohibition orders. "Later, the programme was re-telecast by the TV management again in violation of the Pemra orders," the media regulator said.
It termed the move on Bol News management's part "willful defiance of the orders of the authority, which is a cognizable offence under Sections 29, 30, 33 and 34 of Pemra Ordinance, 2002 as amended by the Pemra (Amendment) Act, 2007."
Pemra has directed Bol News to respond to the show cause notice within seven days.
PBA seeks FIR against Bol management
The Pakistan Broadcasters Association (PBA) on Friday submitted an application to Islamabad Police seeking registration of a criminal case against Bol TV Network CEO Shoaib Sheikh and Amir Liaqat for 'spreading hate and making malicious statements' against PBA members.
The application was submitted to Kohsar police on Friday. The police, however, said that the application would be forwarded to the legal branch of the police for their opinion and advice on the issue.
"Bol TV Network is not a member channel of the complainant [PBA] and has been spreading hate and malicious statements about its member channels and their management and workers," the application reads. It says that Sheikh apparently developed animosity against PBA members because they exposed his fake degree scam. The application also says that Aamir Liaqat was deliberately inciting violence against PBA members.