Posted By PAS
September 25 2014
0
MILLWARD BROWN OPENS IN PAKISTAN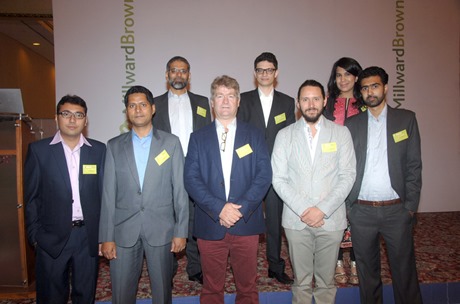 Millward Brown, a global leader in brand, media and communications research, today officially opened its newest office in Karachi, Pakistan.
Millward Brown has been conducting research assignments in Pakistan through its Middle Eastern hub in Dubai for several years, but is now establishing a permanent presence to better support local, regional and global clients operating in the country. The new operation will be led by Noaman Asar.
Asar has over 16 years of experience in the industry, including FMCG, Media, Advertising and Research across Pakistan, the UAE and KSA, having worked in all three countries. Asar will report directly to Prashant Kolleri, Managing Director, Millward Brown Middle East and North Africa. Says Asar, "I am thrilled to have the opportunity to lead the Pakistan operation and I look forward to working with the team to deliver maximum impact for our clients' businesses. Our suite of brand performance and creative development solutions, and the increased benefits these solutions deliver – with new methods of data collection like mobile now being a reality – will redefine the way people think of research, putting Millward Brown Pakistan at the forefront of innovation in market research."
At an event to mark the launch, Charles Foster, Regional Managing Director Africa and Middle East at Millward Brown, delivered a presentation on how to create a meaningful brand that makes more money for their owners. Foster detailed Millward Brown's next generation of brand metrics – Power, Premium and Potential – that deliver brand owners with guidance on investment and brand strategy to drive financial growth. The unique brand equity framework is based on key learnings about how successful brands develop meaning, differentiate themselves and create salience.
Daren Poole, Global Brand Director for Creative Development at Millward Brown spoke about the top three advertising issues marketers face, and discussed the power of the winning idea. Poole said that in an increasingly fragmented marketplace, marketers need an incredible idea to break through the clutter and capture the consumers' heart and mind. He discussed how to find the idea that will work across countries, channels and time. Poole explored how to execute the idea in a way that delivers ROI in both the short and long term and looked at the latest learnings on how to optimise creativity in a multiscreen environment.
Noaman Asar, Country Manager for Millward Brown Pakistan discussed how to create campaigns that break through the clutter and are persuasive, building the brand and delivering ROI on marketing investments. He analysed hundreds of advertising tests Millward Brown have done within the Pakistan market, to uncover the formula for advertising success. He pointed out that advertising is one of the biggest discretionary investments that marketers make. Get it right and your brand grows. Get it wrong and your money is wasted.
Commenting on the launch, Foster said: "Millward Brown continues its strategy of investing in growing markets, and opening an office in Pakistan, will help the business best serve the needs of our clients' right across this increasingly important region, giving us a really solid foundation from which to grow our client partnerships. The Pakistani market is dynamic and evolving, and we will be able to deliver consumer knowledge, insights and advice to better our client's returns on their marketing investments."
Millward Brown's footprint across Africa and the Middle East now includes offices in the United Arab Emirates, Saudi Arabia, Egypt, Nigeria, Ghana, Kenya and South Africa.
For further details regarding Millward Brown Pakistan contact:
Noaman Asar – noaman.asar@millwardbrown.com
Prashant Kolleri – prashant.kolleri@millwardbrown.com
Charles Foster – charles.foster@millwardbrown.com