Posted By PAS
September 25 2014
0
BOL on the horizon soon…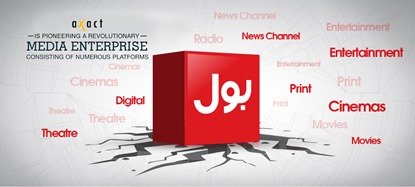 BOL Group, claimed to be Pakistan's Largest Media Group, is all set to launch their TV channel which according to their chairman and CEO Mr Shoaib Ahmed Shaikh will happen before the year ends.
The world seems to be waiting for the TV, as so much hype has been created since the announcement was made on 11th June, 2013.
Determined to abide by the Code of Conduct for Media Broadcasters as laid down by PEMRA BOL promises to ensure it will take special care to bring out the human side of every story and respect human dignity,no matter how unfavorable the circumstances
BOL Entertainment will only broadcast content suitable for family audiences. Religious sensitivities will be respected across the board and will have no place on BOL's airwaves.
No public figure, community, or religious party will be ridiculed or offended.
According to BOL, the feel good factor generated from the positive content on BOL Entertainment will please the masses. The advertisers will latch on to the marketing opportunities presented. It will be a positive change from the horrors of society presented on other channels.
With Mr. Kamran Khan, President and Editor-in-Chief of BOL Group already on board the 16 key figures that will shape the future of BOL are yet to be revealed.
The advertising campaign is all ready to be launched, waiting for the nitty gritties to smooth out.
In a bid to strengthen BOL's position as a media player, the company has also recently collaborated with technical partners to launch a television set by the name of BG LED. As a luanch marketing strategy, it is being offered for free trial to public places including cafes, hotels, clubs, hospitals etc. to enable visitors to get the feel of the TV quality. Available in 22, 32, 36, 42 and 44 inches, the TV is built with the right angles to provide superior viewing pleasure. BG's LED technology is 80% more energy efficient as compared to regular TVs.
BOL has also ventured into the BG Smartphone domain and introduced a line of BG smartphone that will come with the built-in BOL app as well as other media and entertainment apps. It will also allow users to stream BOL TV and stay up-to-date on-the-go.