Posted By PAS
January 4 2014
0
MCB Launches Mobile Wallet, A Single Solution for All Financial Needs!
The Muslim Commercial Bank (MCB) launched the world's first Visa enabled, socially connected Mobile Wallet.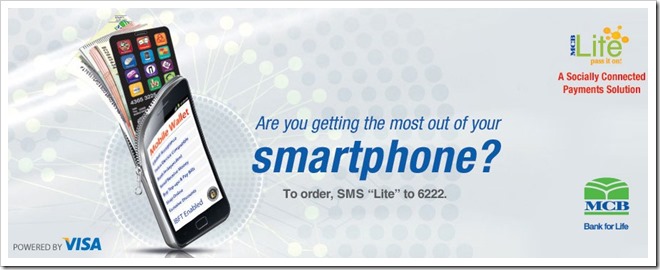 MCB Lite is a mobile account that comes with Visa Card, allowing its users the endless possibilities of shopping, transacting online and for using it at ATM machines across the globe. Customers will be able to manage their account through internet as well.
MCB President & CEO Imran Maqbool, Group Head (Retail) Ali Kazmi, Digital Banking & Business Development Head Qasif Shahid, a large number of other stakeholders and media was present on this occasion.
Customers can have their MCB Lite account activated by visiting any MCB branch, by calling their helpline or by sending a SMS "Lite" to 6222.
After having an MCB Lite account, you can fill it by depositing cash, transferring funds in it from your MCB account or from any account of any bank for that matter.
Once filled with funds, Your MCB Lite account will act as your regular bank account. You can shop anywhere, pay utility bills (via internet or Android App), make online payments, transfer funds to other bank accounts and much more.
Here are few of the MCB Lite Features:
– Global Acceptance
– Bank Independent: MCB Lite Mobile Wallet resides on top of your existing bank account. You can simply use your
Mobile Wallet in conjunction with your existing bank account and load it via IBFT or MCB branches.
– Unlimited Usage
– Online Shopping: The payment solution lets you shop securely and safely at local and international online stores.
– Pay Anyone: In times of need, you can send money to anyone in Pakistan:
– Any MCB Lite User
– Any MCB Account Holder
– Any other Bank Account Holder through IBFT
– Any valid CNIC Holder (Coming Soon)*
– Utility Bill Payment
– Top-Ups: Pay mobile phone bills or buy top-ups of all five Telecommunication companies in Pakistan.
MCB President & CEO Imran Maqbool said, "MCB Lite complements the excellent work that is already happening in the industry for financial inclusion. All of it has been possible due to the remarkable regulatory framework set-up by State Bank of Pakistan and initiatives so far led by telecom operators with the exception of one large bank. Most of the players are operating at the bottom of the opportunity pyramid, with MCB Lite; we aim to play in the parts of the opportunity pyramid that remains largely unoccupied by others."
In future, MCB plans to expand and strengthen their proposition by introducing innovative features and functions by keeping in line with their philosophy of co-creating products with their consumers.
The launching ceremony concluded with an interactive question-answer session and positive note that Pakistan is among a few countries of the world which are going to develop in this technology during coming four to five years because of being a member of club of English speaking countries and high level of teledensity.