Manhattan Communication – Winners Case Study # 3
Season's Special – Special Category
Posted By PAS
February 6 2019
0 Views
| | |
| --- | --- |
| Brand name | McDonald's Pakistan |
| Campaign Title | #SaluteAllMothers |
| Company | McDonald's Pakistan |
| Agency | Manhattan Communications (Pvt) Ltd |
| Idea Origination | Pakistan |
| Campaign Duration | 10th May 2017 – 18th May 2017 |
The Objectives
Mother's Day is the most cluttered space as every company from Fast Foods, FMCGs and high-ticket brands try to capitalize it. Mothers and Millennials both being the key target groups for McDonald's, the objective was to stand out with a message that resonates well across the board among all age groups and translates the brand's voice.
Target Audience
Core TA: Mothers, Teenagers and Young adults. Age: 18 – 40 Years
Psychographics: Internet Savvy, Social Media Avid Users, Fast Food Lovers
The Big Idea
The idea was to pay tribute to Mothers of special children who fight against all social pressures to bring up their kids as ordinary kids.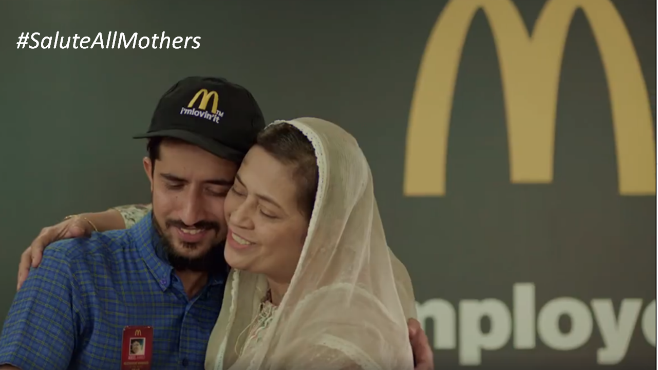 How was the Idea brought to Life?
The idea was to pay a special tribute to these brave, resolute mums with an inspiring story of a Mother of McDonald's employee with special needs.
The story is set in a McDonald's restaurant on the event of McDonald's Employee of the Year celebration. At the event, a very regular looking, winner of the award, is narrating his success story and pays homage to his brave mother with a twist at the end!
The video was promoted on Facebook with $2000 which garnered sky rocketing 5.2 Million Video Views, 62,000 Shares, 3.6K Comments and 136K Likes in 10 days only.
Mother's Day video was also promoted on YouTube with $500 and received 57,000+ views.
Campaign also received appreciation from all over Pakistan and across the borders as it was featured as Best Mother's Day video by Popular Local and International content websites and publishers.
While it was created for Mother's Day at the same
Communication Touch Points
Interactive/ Digital/ Mobile
Total Media Expenditure