Manhattan Communication – Winners Case Study # 2
Campaign for Good – Special Category
Posted By PAS
February 6 2019
0 Views
| | |
| --- | --- |
| Brand name | McDonald's Pakistan |
| Campaign Title | #SaluteAllMothers |
| Company | McDonald's Pakistan |
| Agency | Manhattan Communications (Pvt) Ltd |
| Idea Origination | Pakistan |
| Campaign Duration | 10th May 2017 – 18th May 2017 |
Category Background
Generally, there is a discriminatory attitude of society towards special people; until recently the prevailing belief was that such individuals are incapable of participating in or contributing to society. Rarely companies have such people in their mainstream workforce. In multi-national fast food category McDonald's competitor KFC has a few 'Special' branches that are staffed with special people and those branches are known for this. McDonald's believes in inclusion and special employees at McDonald's work hand in hand with other employees. McDonald's CSR policy of employing special people and the inclusive attitude makes them an employer of choice for special people.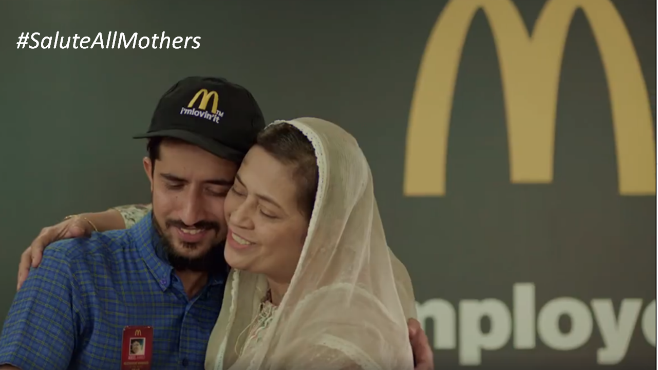 The Objectives and the KPIs Against the Objectives
The objective was to produce a heart-warming video content which could achieve maximum online engagement and virality on the occasion of Mother's Day.
The key benchmarks to measure our performance were online video views (compared to our own previous videos and competitive brands) on the occasion of Mother's Day, lowest cost per video view (compared to industry benchmark), number of shares, viewer frequency view (compared to industry benchmark), organic views percentage view (compared to industry benchmark) and maximum number of positive Facebook Engagements (compared to our own previous videos and competition brands).
Why was this Particular Social Good Initiative Selected and How It Relates Back to the Overall Brand Strategy? How was it the Right Fit for the Brand?
Besides serving delicious unpretentious food, McDonald's has a strong focus on providing little moments of joy to as many people as possible. True to this, McDonald's supports a number of special people NGOs and has a tradition of holding pre-opening parties for them on new store openings. Special employees work along with the regular workforce at McDonald's. It's just the right fit for McDonald's to recognize the efforts of Mothers of such kids.
Target Audience
Core TA: Mothers, Teenagers and Young adults. Age: 18 – 40 Years
Psycho-graphics: Internet savvy, Social Media Avid Users, Fast Food Lovers
The Big Idea
Promoting policy of inclusivity – the idea was to accept such people rather than separating them in society.
Insight that Led to the Big Idea
All brands are celebrating and paying tribute to mums for shaping their kids' lives and making them special or extraordinary, the struggles of mums of special children are least acknowledged. While every mom struggles to make her kid become special and make him stand out, the mums of special children actually fight to bring them up as ordinary, regular kids so they blend in and they do this against all odds and societal pressures.
Bringing the Big Idea to Life
The idea was to pay a special tribute to those brave, resolute mums with an inspiring story of a Mother of McDonald's employee with special needs.
The story was set in a McDonald's restaurant on the event of McDonald's Employee of the Year celebration. At the event, a very regular looking, winner of the award, is narrating his success story and pays homage to his brave mother with a twist at the end! Campaign received appreciation from all over Pakistan and across the borders as it was featured as Best Mother's Day video by Popular Local and International content websites and publishers.
While it was created for Mother's Day at the same time a subliminal tribute was paid to McDonald's CSR policy of being a good employer giving persons with special needs respect in society.
Communication Touch Points
Interactive/Digital/Mobile
Total Media Expenditure
Results
Total Video Views: 5.5 Million Video Views (2nd Highest No. of Video Views across all the other Mother's Day videos published locally, greatest number of video views compared to all the previous videos posted by McDonald's Pakistan) in 10 days
Organic Views: 30%
Cost per Video View: US $0.0005 per view (Industry Benchmark: US $0.001)
Relevance Score of Video: 9/10 as indicated by Facebook Advertising (Industry benchmark: 5/10)
Number of Shares: 62K Shares (Highest number of shares compared to all the previous videos posted by McDonald's Pakistan)
Average Video View Frequency: 3 (The video was viewed at least more than once indicating the content resonated quite well with audience and they chose to watch it again)
Facebook Engagements: 293K Interactions with an 8.6% Engagement Rate (Industry benchmark: 4%)
Video View Rate: 60% (Industry Benchmark: 25%)
Appreciation and Sharing by leading national and international marketing publications such as Aurora, Advertistan, Parhlo, AFAQ India, Marketing Insights India to name a few.
Global Recognition and featured as the best practice in the McDonald's World for Mother's Day Campaigns produced in past.
Factors in the Market Place that Helped Derive the Results
Digital media has empowered and allowed freedom to produce and share content which is not about selling product only. During last few years, a rising trend is to engage with consumers with content that endears the brand to them The engaging video content produced for McDonald's touched the viewer's so much that their shares made it the trending video that week.