Posted By PAS
August 20 2014
0
LINE Launches in Pakistan and Quickly Rises to the Top
Recently, LINE, a popular messaging app, officially launched in Pakistan with the expectations of becoming the Pakistan's first and foremost choice in terms of communicating with each other via a social platform. Line is a leading messaging platform internationally and has over 490 million users. The launch in Pakistan also saw a good response and the messaging app rose to the second position in Top Free Application Chart of the App Store within three days, according to the recent press release by the company.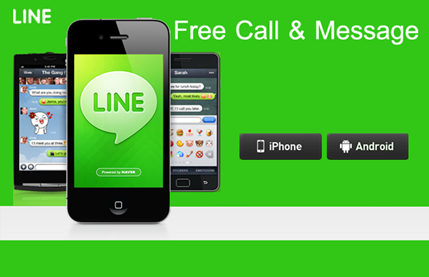 LINE offers its users a variety of channels through which they can communicate with family and friends including messaging, voice calling and video calling, all for free. The user experience is further enriched by the incorporation of elements like Stickers, Home and Timeline as well as Official Accounts. The best part, however, is that the application is multi-platform. So it doesn't matter if you have the popular Android OS running in your phone or iOS, you will find that the app is available on different platforms including Android, iOS, Nokia Store, Windoes Phone and BlackBerry.
Apart from messaging services, the company is also offering more than 20 different applications that can be useful. These include Family Apps and a Slefie Camera, perfect for all your Oscar and Individual Selfies. The team behind LINE is sure that Pakistani users will respond favorably to the Line app as well as the other applications.
"We are excited to see LINE's speedy growth in the Pakistani market, where daily usage of smartphones has become an indispensable part of lives for many young people. The advanced speed of development and expansion of Pakistani smartphone market makes the country that much more significant to LINE. In the near future, we will be partnering with local Pakistani artists and personalities to provide locally-tailored stickers and features for our users in Pakistan," – Bilal Farrukh, Country Lead for LINE Pakistan.
LINE is strategically reaching out to the Pakistani users with TV advertisements. The company is also trying to evolve by adding more exciting features which users all over the world can enjoy. Certain programs that have tailored specifically for the local users are also in the pipeline.
With growth is Smartphone Users and availability of 3G/4G, Pakistan has become a valuable market, especially in the face of the fact that some well known internationally markets are fast becoming saturated. There is no shortage of messaging apps available but there is certainly a room for an app that takes care of everything related to messaging/connecting to other people while still being smart, easy to use and available at all platforms. Can LINE becomes that application for Pakistani users? Are you an existing user? Do let us know what you think about the application in the comments below!