Posted By PAS
January 3 2014
0
I wish all agency websites were this good
This is by far my favourite agency website of 2013. 123 West is a Vancouver based advertising agency and design collective, who claims to be 'different to a typical agency'. It seems that way. Their website was created entirely with talent from fiverr.com (The world's largest marketplace for services, starting at $5).

Some people may argue that it's too easy to outsource the creative like this. I'd argue that in this case, the way they have done it totally supports the low-overhead, collaborative model of One Twenty Three West which is what makes it such a great idea.
Different talent from fiverr perform in various ways, presenting the agency, the partners and even the contact details.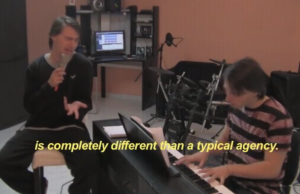 123 West picked up a bronze lion in Cannes this year for their agency website.