Posted By PAS
October 30 2014
0
Good Knight comes to Pakistan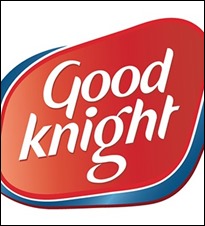 Godrej Consumer Products Limited, one of the conglomerates of home and personal care based in India has ventured into Pakistani market through Good Knight – a mosquito repellent brand.
The launch has been planned in October by a local distribution and marketing company Numeric Distribution Network (NDN) who is currently handling few more Indian brands including Parle (Biscuits) and Tej Ram Dharam Paul (Cool Lip Mouth Freshener).
Good Knight is the bestselling mosquito repellent brand in India and various other countries globally. Over the years, Good Knight has come up with different ways to become superior at producing safe and highly effective products to help protect against mosquito bites. Aerosol (an aerosol spray for mosquitoes and flies), Advanced Active+ (a liquid vaporizer that attacks mosquitoes two times faster than others) and Low Smoke Coil (which reduces irritating smoke) are some of Godrej's breakthrough innovations now being made available in Pakistan.
Good Night will be facing competition from Mortein by Reckitt Benckiser, a strong brand in Pakistan with enjoying a major market share.