Posted By PAS
January 22 2015
1
Digital, Social & Mobile in 2015

By Simon Kemp
We Are Social's comprehensive new report covers internet, social media and mobile usage statistics from all over the world. Digital, Social and Mobile in 2015 report indicates that this year will see even more impressive numbers. Including stats for more than 240 countries around the world, and profiling 30 of the world's biggest economies in detail, this report is the most comprehensive, free compendium of up-to-date digital statistics and data you'll find.
Internet
Almost 42% of the world's population has access to the internet in January 2015, representing a significant jump in reported numbers since last year's report, when the same figure was just 35%: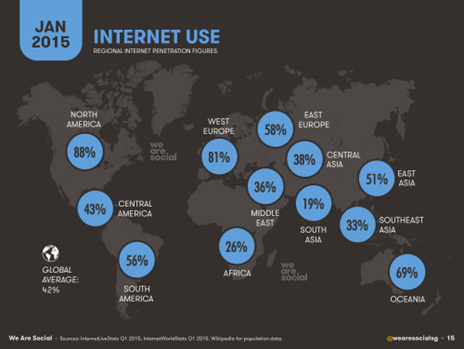 The analysis of these numbers suggests that much of this increase is due to more accurate and timely reporting of data rather than a sudden surge in access, but there is little doubt that many millions of new users accessed the internet for the first time in the past 12 months – many of them via mobile phones.
Mobile Internet
Mobile's share of global web traffic leapt 39% since the same time last year, with one-third of all web pages now served to mobile phones: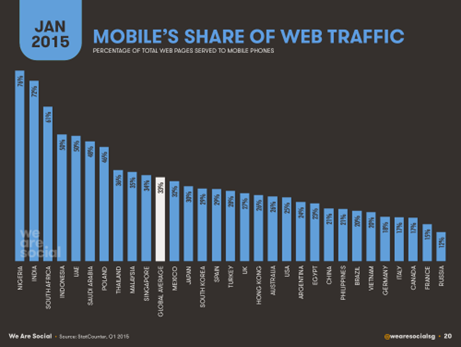 However, mobile's share of the web also varies considerably around the world: mobile phones account for 89% of all pages served in Papua New Guinea, but barely 0.1% of pages served in some of the smaller Caribbean islands. It's worth highlighting that India's web traffic is dominated by mobile devices, with phones alone accounting for 72% of all web pages served in the world's second most populous nation.
Social Media
Social media continues to grow apace around the world too, with active user accounts now equating to roughly 29% of the world's population.
Monthly active user (MAU) figures for the most active social network in each country add up to almost 2.08 billion – a 12% increase since January 2014: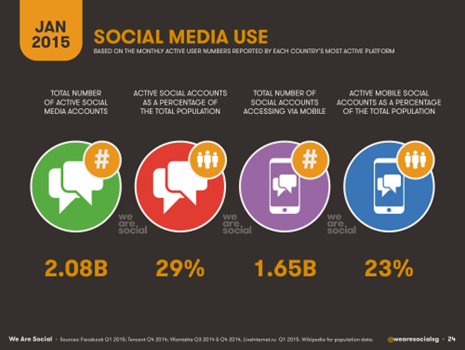 Meanwhile, research conducted by GlobalWebIndex suggests that the average social media user spends 2 hours and 25 minutes per day using social networks and microblogs, with Argentinian and Filipino users registering the most, at more than 4 hours per day: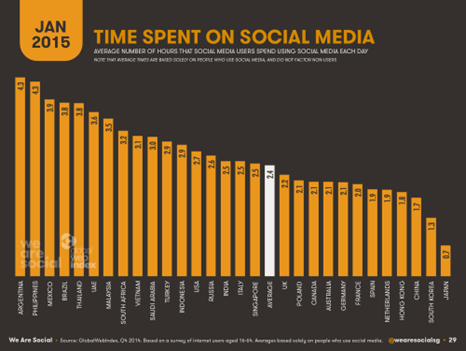 Mobile Social
As we saw above, mobile usage of social networks like Facebook continues to grow all over the world. Adding up the mobile users of the top social network in each country, we see at least 1.65 billion active mobile social accounts in January 2015: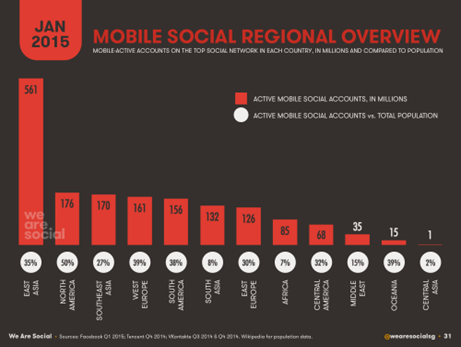 Meanwhile, instant messenger services and chat apps continue their impressive growth patterns, with WhatsApp, WeChat, Facebook Messenger and Viber all reporting more than 100 million new monthly active users over the past 12 months.
Instant messenger services and chat apps now account for 3 of the top 5 global social platforms, and 8 instant messenger brands now claim more than 100 million monthly active users: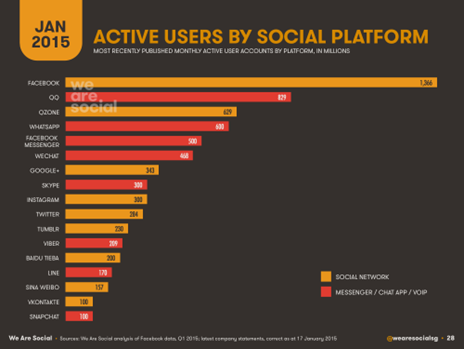 For a more insightful analysis of these numbers, please visit http://bit.ly/SDMW2015