Dawn – Winner Case Study
BEST IN PRINT – PLATFORM AWARD
Posted By PAS
February 6 2019
0 Views
| | |
| --- | --- |
| Brand name | DAWN |
| Campaign Title | The Dawn of Pakistan 1906-1948 |
| Company | The Dawn Media Group |
| Agency | Xpert Services |
| Idea Origination | Pakistan |
| Campaign Duration | May 28, 2017 –August 15, 2017 |
Objectives
To engage a new generation of DAWN readers on the 70th birthdays of Pakistan and DAWN by bringing to life the story of the struggle that led to the creation of Pakistan.
To provide advertisers with a clutter-free environment for their Independence Day campaigns; this was especially important given that as Independence Day approaches, patriotic campaigns reach an all-time high, making it difficult for advertisers' communications to stand out.
To secure a new revenue stream for DAWN.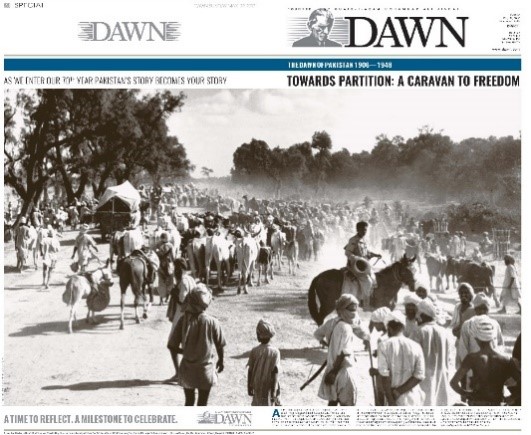 Target Audience for the Campaign
DAWN readers in Pakistan, especially the young.
The Big Idea
To make the story of Pakistan the story of every Pakistani.
Overview:
The Dawn of Pakistan 1906-1948 consisted of 37 episodes which showcased 72 rare photographs that highlighted the landmark moments and key players of Pakistan's Freedom Movement, which led to the creation of Pakistan. The first and 35th episodes ran as double-page covers of DAWN with the headline: "As the nation marks its 70th year, Pakistan's story becomes your story". The remaining episodes were published as full page ads on Page 4 (a page usually reserved for editorial content) to ensure maximum visibility.
The baseline on all 37 episodes stated: "A time to reflect. A milestone to celebrate."
The photographs were sourced from 30+ national and international private collections and public archives. Twenty were taken by Margaret Bourke- White (Getty Images) and originally published in Life magazine in 1948. Each photograph was supported by detailed, researched and fact-checked captions to provide context. The episodes were adapted and replicated for Dawn News and Dawn.com.