Art Culture & Entertainment – Karachi Biennale
REGULAR CATEGORY
Posted By PAS
February 6 2019
0 Views
| | |
| --- | --- |
| Brand name | Karachi Biennale |
| Campaign Title | KB17 |
| Company | Karachi Biennale Trust |
| Agency | Bond Advertising, Olive Digital, Art TV Pakistan, Phenoma, Express Media Group, Architecture Design Art (ADA), FM 89 |
| Idea Origination | Pakistan |
| Campaign Duration | 1st Feb 2017 – 30th Nov 2017 |
The idea was generated in Pakistan, and the campaign duration was from 1st Feb 2017 till 30th Nov 2017.
Category Background
Art need not be confined to the Gallery or Museum. The current art scene in Karachi is mainly restricted to art galleries & museums that are more exclusive than inclusive. Art therefore remains in the domain of privileged & inaccessible to the vast majority of the city dwellers. The KB17 attempted to bridge this gap and connect art to the city & its people by bringing art to public places. The Karachi Biennale is Pakistan's largest international contemporary art event with over 140 artists from across Pakistan & the world participating. Hosted at 12 venues including schools, parks, cinemas & heritage spaces, KB17 brought art to the public in spaces that defined the city's pulse. M.A Jinnah Road served as a main artery with the NJV School as a main hub. KB17 included exhibitions, live performances, film screenings dialogue & educational activities. KB17 revolutionized how people experience the City & art.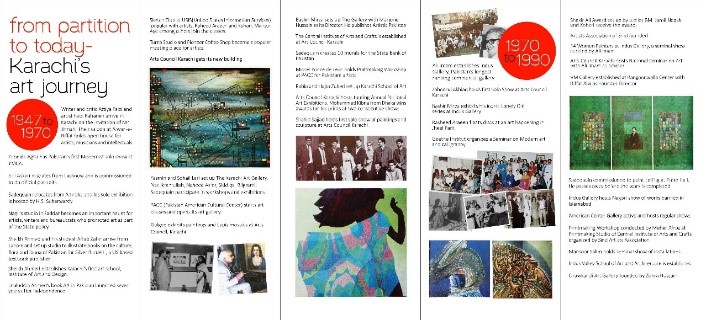 Strategic/ Communication Challenges
Holding Pakistan's largest contemporary art event in a sprawling city of over 22 million people raised challenges that were on one hand geographical & logistical as well as philosophical. Can a bruised city like Karachi enter into an international discussion on art? How do we sensitize and engage audiences in an art event in Pakistan's largest city?
The Objectives and The KPI's against the Objectives
Perceptual -Change how people perceive art & respond to it. Behavioral-
Get the people of Karachi to engage with Art & experience its transformative nature.
Build a bi- annual art event that places Karachi as part of the global creative economy
Sensitize communities, connect with diverse groups and create a bond with audiences
Target Audience
Target audience included Karachi dwellers, the Public that resides in this city, artists across Pakistan and the International art community.
Big Idea of the Campaign
The big idea behind the campaign was Connecting art, the city and its people. KB17 was a vehicle for Karachites to discover, discuss & respond to the city.
Insight that lead to the Big Idea
Karachi being one of the world's most populous cities, resiliently grows & thrives. Despite the mushrooming of private galleries & shows, there was a dire need to establish art in public places. KB17 aimed to make art accessible to new audiences and to create a wider awareness of the transformative energy of Art.
The entire concept of the KB17 revolved around connecting art to the city and its people.
Bringing the Idea to Life
KB17 aim was to connect art to the city & its people. The strategy included putting up temporary exhibitions & performances of over 140 artists in 12 venues throughout the City. It was open to the public and free of cost, KB17 exhibitions provided an opportunity to experience art through installations, videos, and performances, in settings that were accessible, public and unintimidating. The art exhibitions took place at 12 venues from NJV School to Frere Hall. "The Reel on Hai" a public art project covered 18 union councils of the city. Bringing art to the very grassroots. The KB17 educational program reached out to over 3000 students in both Government & private schools. Media was engaged though press conferences, press meets, appearances on TV, radio & daily press releases. Local & International Media Partners were engaged including European art portal, Universes in Universe. Digital outreach was done through website, facebook, instagram, youtube also Merchandising & bus tours.
Communication Touch Points
Total Media Expenditure
USD 10,000 to 50,000
Campaign Result
Described as "eye-opening" "provocative", "refreshing" and "wonderful", KB17 has been marked in Karachi's Cultural History as Pakistan's first ever International Contemporary Art Biennale. Karachi Biennale 2017 (KB17) came to be considered a two-week museum of testimonies of the city. The cultural value of KB17 could not be put in numbers but the biennale effect was far beyond that of the art.