Posted By PAS
May 26 2015
8
Content isn't King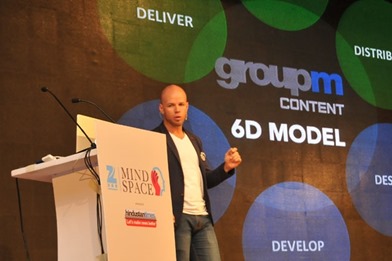 The overused phrase "content is king" fails to reflect how the marketplace has changed and is therefore holding brands back, according to Josh Black of GroupM Content.
Black recently spoke at the MELT 2015 festival of creativity in Mumbai, where he shared his belief that content is not 'king'. He authored this opinion piece based on his address.
To be more accurate, I believe that saying it is king is part of the story. It does not reflect how the consumer has changed, how data has grown or how technology has evolved. It reflects how the industry should have moved on but in many ways, hasn't. It points to my belief that too many people spend too much time focusing on the creative process and not enough on the distribution, delivery or data processes. Creative does matter, but it's one third of the content process for me. The other two-thirds is just as important and needs a lot more attention.
Saying 'content is king' is holding back brands from really engaging with their customers and getting real business results. Good business is about understanding your challenges, what your customers really want and pivoting. The game has changed. The bottom line though is that if you build it, they won't come. They won't just find you, they won't mysteriously stumble on your content at 3am. And sadly, I really believe that some people still have not figured this out, blindly believing that the art, the big idea or the creative is the only thing that matters.
Everything started to change 10 years ago. Urbanisation, upwardly mobile middle classes, technology leaps, iPhones, tablets, 4G, fibreoptic cables, the death of text messaging and the rise of WhatsApp and WeChat, Facebook and YouTube have all changed the game. The old model was largely reliant on cables and pipes to deliver content through a fairly narrow window. People were essentially taxed to access certain forms of content and the viewers were beholden to the whim of the channel programmers, who determined what they watched, when they wanted to broadcast it.
The future is now and we live in a world today where change is everywhere. Consumers are no longer at the mercy of the programmer and now control what they want, when they want and on the screen they want. The consumer has never been so in control and if we as an industry don't understand this, we will have failed to learn any lessons from the music industry, which has struggled for the last decade to find a revenue model that works.
Consumers now consume content just like they consume snacks—on the go and multiple times a day. A huge part of what people are actually consuming online is much shorter format content: content that is 2 to 4 minutes long, that educates or empowers them and can be consumed when and how and where they want.
Many of you will be familiar with the Old Spice campaign from a few years back. This was the tipping point for me when many brands finally realised that you can't just shoot video content and cross your fingers and hope it will go viral. P&G worked out that a careful mix of paid, owned earned would work here—the campaign got traction by starting on TV and cinema, then migrated to the brand microsite, Facebook and Twitter assets, and then continued with influencers, sharing and word of mouth. The company then also did banner and video ads to drive video views and push traffic back to the social assets. By having a solid content-distribution strategy in place they achieved amazing results. Yes the creative was fantastic. But without the paid-, owned- and earned-media strategy behind this content, it never would have been anywhere close to as successful as what it was.
The learning here is that epic content without distribution is a recipe for failing. The content we build today needs to be built for human needs, not for digital behaviors.
Today, 93 per cent of brands in the USA use branded content, but only 42 per cent of them claim to be any good at it. I personally believe what is happening is that too many of them are still far too focused on the creative and the idea and they either plan far too late the distribution plan or don't have a plan at all, and that's why we are failing.
Good content is not enough. Everyone has great content. The reality is that in today's world, people that produce content that isn't entertaining, educational or emotional can still get amazing results… because they get the part that matters—everything beyond creative—brilliantly correct.
Without the right distribution plan in place, you are shouting in the dark and nobody is going to hear you. Content needs to be planned and distributed. It can't be the thing you think of at the 13th hour or the process you put in place after the content is already created.
I truly believe that the audience comes before the art. Distribution needs to be planned out before you even think about shooting.
To quote Lachlan Murdoch, "Content might be king, but distribution is queen and she wears the pants".
Josh Black is Asia-Pacific CEO of GroupM Content
Source: Campaign Asia-Pacific