Posted By PAS
November 6 2014
0
Brands Into Halloween – KFC Australia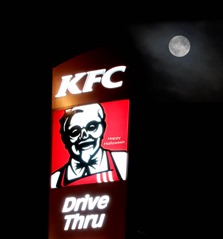 In an Australian first, KFC is celebrating Halloween by changing its Pennant Hills store signage for one night to Celebrate Halloween and substituting the well-known kindly face of the Colonel with a scary skull.
The  creative idea, by Ogilvy and Mather, Sydney, was also seeded on Facebook and Instagram.
The Facebook and instagram campaign asked fans to guess which store it is for a trick or treat. To help consumers guess correctly, a video showcasing installation of the sign and wishing a Happy Halloween to KFC customers was also posted Says KFC marketing manager Eva Tran: "This was a great opportunity for KFC to continue to be relevant by developing work that is real time and topical.
Credits:
Ogilvy Sydney
Creatives:
Scott Mortimer
Wellison D'Assuncao
Suit:
Brad Ure