Posted By PAS
August 2 2019
0
3 Powerful Digital Marketing Strategies for Healthcare Organizations
It is an optimal time for you to examine the latest shifts in healthcare marketing opportunities when 77% of the patients use web engines for health-related information. With the emerging trends in the internet world, digital marketing proves to be a robust platform for healthcare organizations to effectively communicate and collaborate with the patients. They can tailor messages across various channels to actively promote patient engagement and take their business growth to the next level.
But what are some of the digital marketing strategies that will help to differentiate you from your opponents and cater to the potential audience? Get ready to learn 3 powerful digital marketing strategies that would help to grow your patient volume faster than ever before.
1. Elevate Your Content Marketing:
Content marketing is the finest method of delivering relevant information to your targeted audience based on their needs. It is the long term strategy that allows you to build a strong relationship with your specified audience by providing them a high-quality content that is relevant to their needs on a constant basis.
It is an adage that content is the present and future of marketing. It is obviously true but let's look at it in another way. Thousands of healthcare organizations are creating content every minute, every hour of the day. Does that content outrank them from their competitors? Does it enable them to attract and retain a clearly defined audience? The answer is NO. So let's redefine this statement as "a relevant, valuable and engaging content is the present and future of marketing"
Search engines and social media platforms have been cluttered with great, mediocre and terrible health-related videos, blog contents and infographics. So, if you want to make your content stand out and attract the health seekers on your website, start producing engaging content. This would help you to:
Increase your conversion rate
Boost your business growth
Help to build an audience
Help to retain loyal customers
Make your committed customers your brand advocates.
Start making your marketing campaigns consisted of in-depth and relevant health information your patients are looking for. Deliver the content via blogs or social media platforms that are going to speak to your audience and help them to solve their issues. This way, you can compel them along the path as a customer and, ultimately, to business conversion.
Here is the sample of an engaging content of a medical healthcare organization KKT Orthopedic Spine Center that provides non-surgical treatment for spine-related disorders through Sound Waves Technology.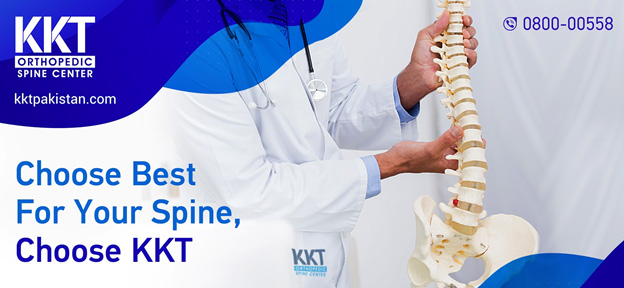 2. Boost Your Website SEO
Have you ever considered how much traffic you can actually get by making your SEO game stronger? No, then it's time to give a thought to it!
An acronym SEO stands for Search Engine Optimization. With the rapid advancement in the digital world, SEO has become a relevant process of increasing both the quality and the quantity of website traffic through the top ranking of your content on search engine results.
The rising competition in the healthcare industry can make your progress stagnant if you don't have the top ranking in the search engine result. According to the Pew Research Center's Report, 77% of online health seekers use search engines like Google, Yahoo or Firefox for medical-related information. If you fail to make your content get indexed within these search results, the chances of generating qualified traffic on your website down despite the best medical solutions you offer.
The best way to outrank your competitors and make your presence visible on search engines top result is to develop an understanding of;
what kind of information your patients are looking for
What are the keywords they are using
What are some of the health cures they are seeking for
Once you are able to answer these questions, you are ready to connect yourself with the potential patients who are searching online for the solutions you offer and generate heavy traffic on your webpage. So, start optimizing your website by;
Generating relevant content and using key terms that your patients are looking online
Making your website friendly to search engines
Building the links and backlinks (a link of website with another website)
Marketing the unique value of your website
These SEO tactics will help you to improve your search engine ranking and ultimately boost your website traffic.
3. Leverage your Paid Ads Campaigns
Paid Internet Advertising (Non-Organic Ads) is relatively trending on social media platforms nowadays. They can be either in the form of Display Ads or Search Ads. From the platform of Google Adwords, you can connect your ads with potential searchers precisely seeking what you provide, guide more traffic to your website instantly and maximize your ROI (Return on investment).
Admit the fact that the majority of the healthcare providers and practitioners rely on organic social media for a huge part of their marketing strategies. They post images, videos, updates on Facebook, Instagram, and other social media platforms to build an audience and generate brand awareness. It is one of the valid strategies though but it cannot bring more mature traffic to your site alone.
Differentiate yourself from other medical service providers by formulating a well- designed paid ad campaigns and target it to the right audience. After running a non-organic ad campaign, the next step is to know that either the ads are performing the way they should be or not? Listed below are the simple things that you can do to make sure your paid ad is performing well:
Understand how keywords work
Know your relevant Social media platform
Track your ads performance regularly
Create a landing page
Set your budget on a regular basis
Always keep ahead of your competitors by properly leveraging on your paid ad campaigns.
So these are the 3 powerful digital marketing strategies that you can incorporate into your healthcare marketing plan. Depending on your services, market your campaigns strategically to convert patients and improve the overall ROI on your marketing investment.
AUTHOR

Maryam Malik is an energetic and self-driven person. She is a dynamic, enthusiastic and creative professional with experience in copy-writing, academic writing, content writing.