5 MARKETING PREDICTIONS FOR 2017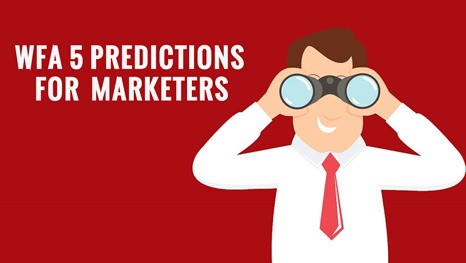 After an intense 2016, the WFA staff share their 5 predictions for what the next 12 months hold for marketers.
#1 Rethinking Digital Investment: What percentage of my ads are being seen? How many are actually human beings? Where are my ads ending up? Am I really getting the ROI I'm told I'm getting? These are just a few of the factors which will lead big brands to review their digital investment in 2017. We are already seeing indications that brand owners are diverting some of their spend towards what they perceive to be more transparent channels. 2017 could well see more of this.
#2 Programmatic 2.0: With marketers doubling down on programmatic mobile video content, we've witnessed the rapid evolution of programmatic models. But with around 9 in 10 marketers reviewing these arrangements, we can anticipate that recent changes are just the tip of the iceberg. A continued trend towards the strengthening of arrangements with partners or adoption of 'hybrid' models will define 2017.
#3 Decoupling MarTech: As clients seek greater transparency from programmatic, we expect to see more and more brands look to set up direct deals to improve control and visibility. Ownership of data, for example, is a strategically important consideration for many media teams and we expect to see more marketing procurement involvement in setting up direct contracts with tech vendors.
#4 Progressive Partnerships and Brand Mash-ups: Legacy models continue to crumble and incubators, hackathons and other entrepreneurial start-up partnerships have become increasingly de rigueur. Brand owners looking for progressive partnerships in the pursuit of marketing excellence and innovation will move beyond Brand-Media collaborations towards Brand-to-Brandpartnerships. Brands will pool resources, cross-reference data and increasingly co-create- all just to prove that two brains are better than one.
#5 Step Up to The Plate: We can't outsource all our most intractable challenges. At the end of the day, the future is in our hands. Declining consumer trust, a lack of sufficiently integrated and creative solutions, ad fraud, media transparency… it's ultimately incumbent on marketers to take the lead in rectifying these challenges. 2017 will see an increased focus on internal capabilities. Budget holders must acquire and develop the necessary leadership and expertise in order to attain greater understanding, visibility and, ultimately, control over their brands' destiny.
Source: WFA