Posted By PAS
March 22 2014
0
The PAS Awards 2014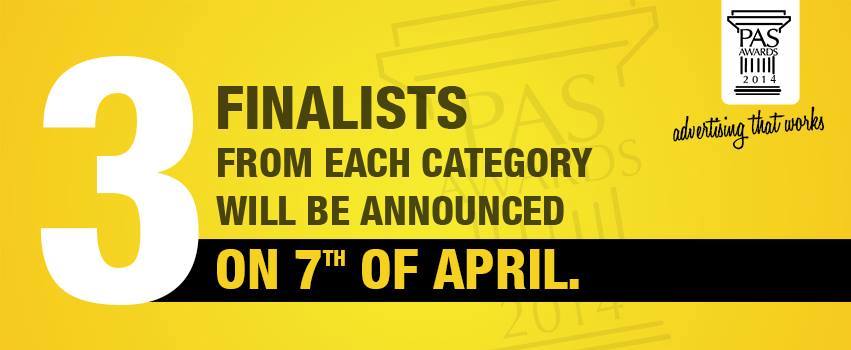 Recognized as the ultimate advertising awards in Pakistan by advertisers and agencies alike, PAS Awards is designed to encourage all big and small advertisers to bring forth their creative campaigns and recognize their excellent work.
This year's awards campaign kicked off in December 2013 with extensive promotional activities on the radio, outdoor, print and digital platforms. Our social media campaigns have also been a major success. The Final Jury Round for the entries took place on March 14th, 2014 at the Marriott in Karachi. Apart from the regular 28 major categories in which entries were being judged for their effectiveness and creativeness, there are also 4 special categories this year. Out of the 197 entries submitted this year, 114 have qualified for the Final Jury Round. Each category will have one final winner with the winners being announced at the main event in May 2014.
All the entries are looked with special consideration by all our jury members who are expertise in their respective fields. The jury head is the respected Mr. Javid Jabbar. His fellow jury members for the Final Jury Round were Syed Ali Akbar, Semyne Khan, Prof. Ehsan Ul Haq, Yousuf Baig Mirza, Syed Jawaid Iqbal, Zahid Jehangir, Ather Jamal, Omar Abedin, Shahzad Nawaz, Shahrukh Hasan, Salman Hussain Batalvi, Waheed Bhatti, Sohail Ansar, Rizwan Jamil, Ejaz Wasay and Saima Qamar. The following online jury members are judging the category of "Best in Digital"; Julian Saunders, Michael Leander, Omar Abedin, Richard Webb, Jassim Ali, Aamir Pasha, Jehan Ara, Sunil Gupta, and Asad-ur-Rahman.