Posted By PAS
December 1 2011
1
Developing Power Communication Strategy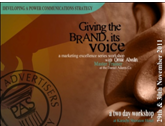 Pakistan Advertisers Society (PAS) organized a two-day training workshop on Developing Power Communication Strategy on November 29th & 30th, 2011 at Karachi Sheraton Hotel.
Conducted by Omar Abedin, a Master trainer at The Daniel Adams Co. and the CEO of Brand Hotline, Dubai, the workshop was part of the marketing and advertising excellence series workshop that is held regularly by PAS.
The programme gave marketers two days of intense and inspiring content with high level of engagement and interactivity full of tips, tools and techniques. Some of the highlights were the PFA equation, world class briefing practices, optimizing client-agency relationship and developing powerful creative ideas that give the brand its voice.
Some of the participating companies were Engro Foods, Oasis International, Ufone, HBL, Candyland, English Biscuits, PepsiCo, Tapal Tea, Youngs Food and Cable Cast.
The workshop was planned under the Professional Advancement Program – step towards excellence in advertising of PAS. Through this programme, PAS aims to create knowledge centre and foster a refined and superior class of advertising professionals that will raise and represent Pakistan's advertising industry at a global level. It also provides a platform to share experiences and benchmark performances, vis-à-vis their peers in their industry, their agencies and their counterparts across numerous markets.