Posted By PAS
April 28 2014
0
17 more days to PAS Awards 2014
The PAS Awards, initiated in 2011 has come to be recognized by agencies and clients as Pakistan's most respected advertising awards. Now in its fourth year, the awards continue to showcase and honour the campaigns that display a compelling strategic premise, a creative and innovative idea, excellence in execution and strong results.
Of the total 197 entries received this year, 85 have been nominated as finalists across 32 categories. Of all the nominations, one entry will grab the "Campaign of the Year" award and one will win the "Best Original local Campaign" award.
The winners in each category will be disclosed on 16th May at the Award ceremony.
"Pick a winner" Contest":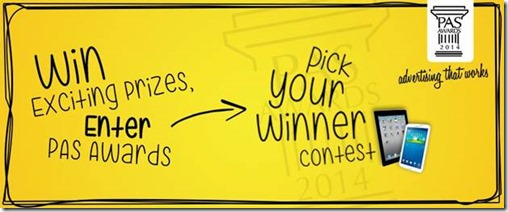 For the first time, PAS Awards has unrolled an exciting contest to guess which of the nominated entries will win the "Campaign of the Year" award and also the most coveted "Passion for Pakistan" category award.
In three simple steps, participants can guess the winner and win an Ipad or a Samsung tablet.
1. Log onto  www.pasawards.org/onlinepolls
2. View the nominated entries and
3. Vote for "Campaign of the Year" award and "Passion for Pakistan" award.
Marketed through print, OOH, mailshot and Radio, PAS Awards 2014 "Pick a winner" contest is already getting a huge response as voters are excited to guess the actual winner and stand a chance to win an ipad or a Samsung tablet.
The winners will be picked through a lucky draw and announced on 19th May, 2014 on the digital media.
The contest is open till 12th May, 2014 so for those who have not voted yet, there are still 2 more weeks till the contest ends.