Posted By PAS
October 23 2017
14
Ad- Review: Vital Tea "Apni Tehzeeb Ki Hifazat Karo"
Vital Tea recently came up with a new TVC who's big idea revolves around Tehzeeb & Culture. Pakistan, being among one of the top importers and consumers of tea has an emotional attachment to tea which goes beyond consuming it. Even if one likes it or not but tea is part of our everyday lives and culture especially when it comes to "Doodh Patti Chae" of local Dhabas which has now become an identity of the country.
Complete campaign:

Going against the tides while breaking clutter through creativity, vital launched the ad to create differentiation among consumers from other tea brands. With its different concept and idea, vital tea is not only trying to create the brand image, perception, recall and market space but its also indirectly supporting and developing the entire category of Tea by owning the rich traditional values.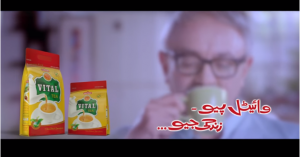 If we talk about globalization, on one side it has brought changes like technological revolution, social changes, increased awareness of common people and impacted our mindsets but on the other end, vital tea went against the tide & kept the big idea of Cultural values in the crux of the new TVC. They have touched the Hot Buttons running in our society while creating a narrative of sticking to strong values of respect to elders, hospitality & giving importance to family ties.
The overall communication is simple & straightforward while targetting the changing lifestyle and norms in our society perfectly. But the point to ponder is if the advertisement is creating a buzz among youth or not which is almost 60% of Pakistan's population. This raises the question on the execution of ad if it has supported the naive communication of the TVC which is complementing the whole idea in making it more impactful and triggering to the audience. In my opinion, the execution could have been much better and served its purpose of creating a wow factor in our minds which it failed to some extent.


Another approach for the ad could have been, vital tea mocking coffee lovers or targetted people who consider themselves to be modern while having coffee in this latest ad and with that, they might have sent a subtle rebuttal to Nescafe's earlier ad. But targetting soft drinks is not a bad idea either as their marketing goes on throughout the year with which they have made their place in the market.

Slice of life and Social appeal has smartly been used to communicate the message of the brand by showing different sides of our emerging daily lives. However, the overall idea could have been executed in a better way to justify the creative idea.
Credit goes to the team behind the camera for making the ad stand out among the current ads. It is without any doubt that raising the bar of marketing fraternity is a never-ending job which must be owned by everyone in the industry so that we can improve from the roots.
The Verdict: Good Concept and idea but the execution could have been improved. The message was clear but didn't create the "WOW" or "ARREY WAHH" factor on social media which is usually discussed as we are sitting with our colleagues, friends or families!
CREDITS – Vital Tea TVC 2017 – Apni Tehzeeb Ki Hifazat Karo
Concept & Direction: Inam Ur Rahim
Talent: Citrus Talent / Media Cops
Production Manager: Ata Ur Rahim
Coordination : Jamal Zaidi
AUTHOR

Assistant Marketing Manager