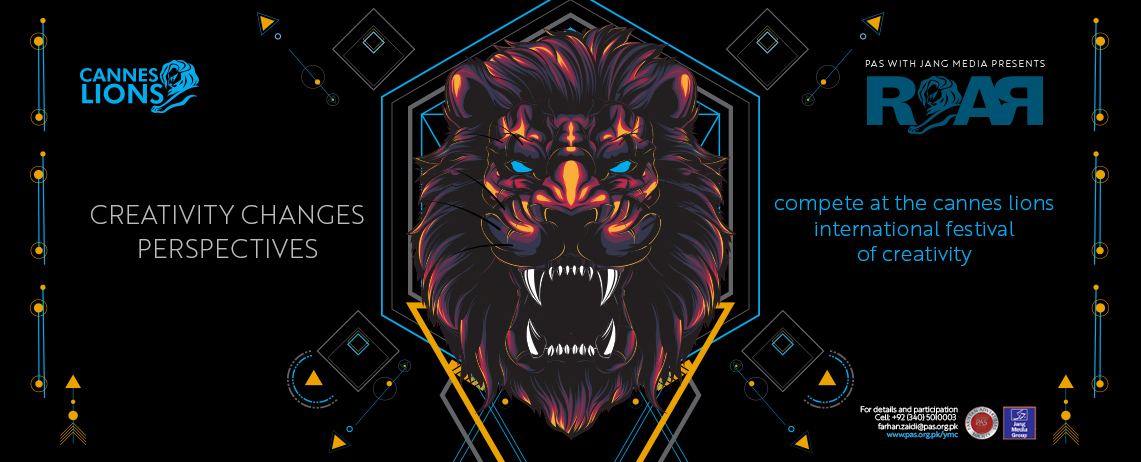 Young Marketers Competition (YMC)
Introduction
Young Marketers Competition 2019 is hosted by Pakistan Advertisers Society in association with The Jang Media Group, Official Festival Representative in Pakistan for the Cannes Lions International Festival of Creativity.
During April 10-11, 2019, entrants will participate in a live competition modelled after the global competition in Cannes.
In this competition, two individuals in a team will pitch a marketing brief for an NGO that will be announced 24 hours before the competition closes.
The entry submissions will be open from Wednesday, April 10 at 10:00 a.m. to Thursday, April 11 at 10:00 a.m. The entry submission form will be live only during this period. Late entries will result in automatic disqualification – THERE WILL BE NO EXCEPTIONS.
Tip: Budget extra time prior to the entry submission deadline to ensure you aren't rushed to complete the submission form. Remember, it's the quality that counts!

Key Dates
March 20 : Registration opens for the 2019 Young Marketers Competition
April 8 : Last date of Registration
April 10-11 : Competition dates
April 11 : Live judging for shortlisted Young Marketers teams
April 11 : Winners are announced
June 17-21 : Cannes Lions International Festival of Creativity in Cannes, France
Eligibility
To be eligible for YMC, entrants must be Pakistani citizens who at the time of entry are:
Not older than 30 years of age prior to June 21, 2019
Have a good understanding of spoken and written English
Hold a valid passport at least 6 months from expiry without any restrictions on travel
Available to attend the 2019 Cannes International Festival of Creativity in Cannes, France on June 17, 2019 – June 21, 2019
Be professionally employed (i.e. not freelance) in the marketing department of a company that engages in the services of creative communication, advertising, or digital content.
How to Enter?
Each team must:
Read and agree to the 2019 Official Young Marketers Competition Rules
Complete and submit a Registration Form
Pay a non-refundable 35,000 PKR Registration Fee
Submit a competition entry that meets the requirements of the competition brief released on April 10, 2019
Competition Entry
To apply, each team must create a maximum two (2) page marketing creative brief for a charity (announced just prior to the start of the competition) within twenty-four (24) hours of the competition start time. Each team must ensure their entry is original. No external assistance or influence of any kind from any person, outside the team, is permitted.
Registration
To register for the competition,
click here
. Once you register your team, we will contact you with an invoice and further details to proceed with your entry.
Judging
Submissions will be reviewed by this year's panel of judges.
Top 10 shortlisted teams will be invited to participate in a live judging round on April 11, 2019 where they will present their submission to judges.
Whats up for grab?
In addition to being crowned Young Marketers for 2019 and representing Pakistan at Cannes Lions, each winning team receives:
Round-trip economy airfare and return airport transfers to Nice, France
Accommodation in a single or shared occupancy room in Cannes, France for the duration of the Festival
Two-full week registration passes to attend the Festival
Registration and participation in the 2019 Global Young Lions Competition to represent Pakistan at the Festival