Posted By PAS
April 25 2014
0
SoDA 2014 Digital Marketing Report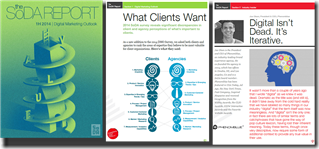 SoDA produced its Digital Marketing Outlook report, attracting 814 respondents to their survey, a 25 percent jump from last year. Of the participants, more than 84 percent were key decision makers and influencers, counting CMOs, VPs, and directors among the ranks.
They identified which regions are driving business revenue, told us about the growing number of innovation labs, and gave frank self-assessments of their digital savvy, along with a host of other surprising and not-so-surprising news. These responses provided real context for SoDA-derived insights about important changes reshaping the marketing landscape.
These findings are spread throught the report's five sections:
1- Industry Insider, which includes fascinating views on the psycho-dynamics of experience design and agency ecosystems that work.
2- Modern Marketers, which touches upon the so-called "Age of Agile" and the top 7 marks of a great client, authored by our own Stefan Tornquist, VP of research at Econsultancy.
3- Tech Talk, which explores interface challenges and multiscreen lifestyles, among other topics.
4- People Power, which tells us why the next killer app is human and why improv skills may very well trump eye-catching resumes.
5- Advocacy, which covers the copyright ladder of abstraction and pushes for consumer advocacy, among other well-deserving issues.