Posted By PAS
March 22 2014
0
Easypaisa wins two awards at the GSMA Mobile World Congress
Easypaisa was announced the winner of Best NFC/Mobile Money Product or Service and Best Mobile Product or Service for Women in Emerging Markets at the 19th Annual GSMA Global Mobile Awards 2014 held during Mobile World Congress at Barcelona, Spain on Tuesday.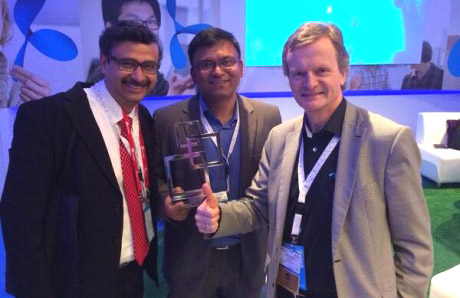 The only nominee from Pakistan this year, Easypaisa was nominated in 2 categories and competed against a number of world renowned service providers to bring this honour to the country.
Easypaisa was amongst 160 nominees across thirty eight (38) categories, selected from over 680 high-quality entries from across the global mobile ecosystem.
More than 175 independent analysts, journalists, academics and subject matter experts throughout the world participated in judging of the 2014 awards.
Expressing his delight, Nadeem Hussain, CEO and President, Tameer Microfinance Bank said, "We have always aimed at developing products that change people's lives for the better. Tameer Bank, through its microfinance leadership and branchless banking services like Easypaisa, is committed to accelerate socio-economic development by empowering people through innovative technologies. This award is yet another testament of the trust our customers put in us and of our vision of delivering groundbreaking services with a transformative effect. I would especially like to thank the State Bank of Pakistan for creating a regulatory environment which has enabled us to achieve global recognition for a Pakistani service."
"It has been a milestone year for Easypaisa, marked by exponential growth, product innovation and industry accolades, culminating in this great honor," said Yahya Khan, Chief Financial Services Officer for Telenor Pakistan.
"We thank the GSMA for recognizing our efforts to increase financial inclusion in Pakistan. It is a tremendous achievement to be the winner at Mobile World Congress and I would like to thank and congratulate all our employees and our customers whose trust and belief made it all possible. On behalf of all Pakistanis, I would like to thank our regulators and our international partners for supporting our initiative and contributing towards the success of Easypaisa and making it a globally recognized mobile money service."
Launched in 2009, Easypaisa is serving consumers, corporations and government projects with convenient, reliable and secure financial services besides bringing the unbanked population of Pakistan in the formal financial flow. In October 2010 Easypaisa won the award for Best Mobile Money Transfer Entrant of the Year at the world's first Mobile Money Transfer (MMT) Awards held in Dubai.