Posted By PAS
February 9 2014
0
Best in Media Innovation – Johnson & Johnson takes the lead
JOHNSON & JOHNSON TAKES NEWSPAPER READERS BACK WITH ADS THAT SMELL LIKE BABY POWDER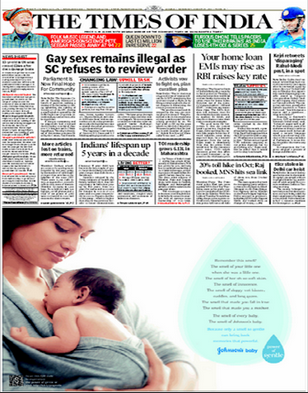 Creative personnel across agencies and brands rack their brains day and night to come up with a novel idea to make the brands stand out across various mediums of communication.
To honour spectacular ideas, PAS Awards 2014 has launched a special category this year to award entries that show insight and creativity to change the way a particular media channel is consumed – a campaign that has gone beyond the conventional approach to grab its target, and effectively engage with them.
One of the unusual ideas that definitely deserve an award is the use of newspapers by Johnson and Johnson in India. Indian newspapers including The Times of India, The Hindu, Malayala Manorama and Mathrubhumi came out smelling like babies last week and reached thousands of homes early morning infused with Johnson & Johnson (J&J) baby powder.
The idea was to use print media innovation to drive the thing that instantly marks out the company's product — the baby smell. Experts say sensory branding can help companies create a strong connect in consumers' minds.
Quite a brilliant idea that can be replicated here in Pakistan as well. So readers, maybe next time you receive your newspaper early morning, it may start smelling like an achar, tikka masala or perhaps ketchup…..