Posted By PAS
April 26 2017
1
PAK SUZUKI Officially launches "New Cultus"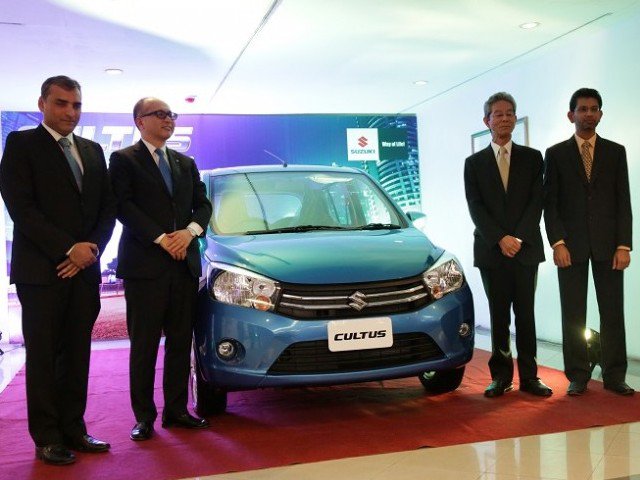 LAHORE – Pak Suzuki has introduced the 1,000cc Celerio, rebranded to be the new Cultus in Pakistan.
According to a press release, the launching ceremony of the new Cultus was held in Lahore on Sunday.
The new Cultus, priced at Rs1.25 million for the VXR variant and Rs1.391 million for the VXL one, comes after its predecessor spent over a decade and a half on Pakistani roads with little modifications or upgrades.
"The auto manufacturing industry is the backbone of any country and for the past couple of decades Pak Suzuki has played its part," said General Manager Marketing Pak Suzuki Azam Mirza during the launch ceremony.
"The company also plans to introduce Alto 660CC in place of Mehran 800CC by 2018", Mirza added.
The features come somewhat as a relief after Pak Suzuki long sustained criticism for manufacturing outdated vehicles with little safety aspects.
Earlier in the year, Pak Suzuki introduced the imported Ciaz and Vitara models. However, Cultus becomes the first locally-assembled vehicle Suzuki has introduced after promises of over $450 million investment in the country.
Pakistan has recently seen several developments in the auto sector, with foreign carmakers announcing plans of joint ventures with local companies.
Nishat Mills, a flagship textile group, announced plans of a joint venture with Hyundai Motor Corporation (HMC) while Lucky Cement – one of the largest cement makers in the country – disclosed its plans of a partnership with South Korea's Kia Motor Co.
Ghandhara Nissan is also in talks with Renault and Audi AG also expressed its interest in setting up an assembly plant in the country.