Upcoming Webinars
15th January 2020
In-housing Programmatic Media Success
The responsibility to in-house and digitally transform your media buying can seem overwhelming. But no matter what is reported in the press, no-one has all the answers. This webinar will cover how to make the decision on what model of in-housing is best for your business. It will then follow this up with how the tech, process, data and people need to work together to form an efficient in-house operation. In-housing consultancy, Infectious Media, will draw on years of experience in helping brands take control of their media buying to give you techniques to use to get you started in the right direction.
14th January 2020
ePrivacy
Europe's next major piece of privacy legislation, the ePrivacy Regulation, is expected to have a significant impact on the way advertisers and their partners collect data for online advertising. After more than 3 years of political discussions, the Regulation has still not been finalized, leaving many advertisers uncertain about what the future holds for cookies, pixels and other types of tracker. In this webinar, Catherine Armitage, Director of Digital Policy, WFA, will give an overview of the latest developments on the ePrivacy Regulation and what this could mean for advertisers in the long term. She will also talk about the ongoing advocacy and outreach work WFA has been doing on the file in Brussels with members and expected next steps for 2020.
Archives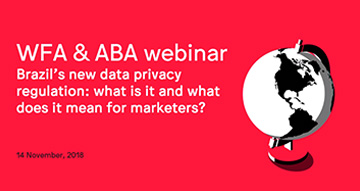 Brazil's new data privacy regulation: what is it and what does it mean for marketers?
03 Jan 2020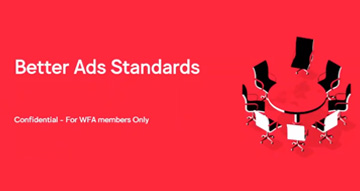 Better Ads Standards: Understanding the Coalition for Better Ads (CBA) "Better Ads Standards" and what they mean for marketers
20 December 2019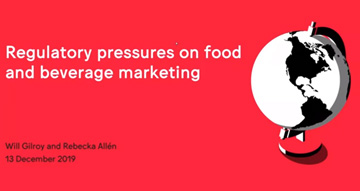 Regulatory pressures on food and beverage marketing around the globe
20 December 2019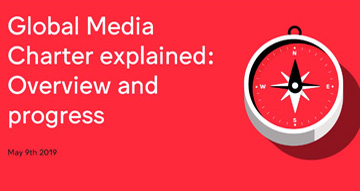 The Global Media Charter explained
January 7 2020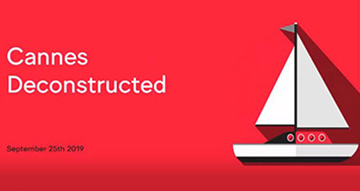 Contagious presents Cannes Deconstructed 2019
January 7 2020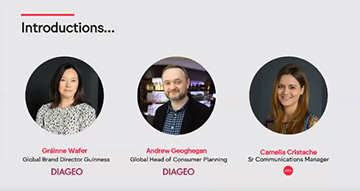 Breaking down stereotypes in advertising (with Diageo)
January 7 2020
Better Marketing: How can marketing change the world?
January 7 2020
Breaking down stereotypes in advertising (with Unilever)
January 7 2020