October 15 2019
Better Ads Standards: Understanding the Coalition for Better Ads (CBA) "Better Ads Standards" and what they mean for marketers
The
Coalition for Better Ads
(CBA) is dedicated to improving the online advertising experience through its
Better Ads Standards
that identify the most disruptive online advertising experiences. This year, the CBA's Standards for desktop and mobile web will expand to all countries and regions worldwide. Likewise, Google will begin applying the standards worldwide through its Chrome web browser, blocking ads identified by the CBA as the most intrusive.
This webinar aims to inform marketers about the current status of the Better Ads Standards, why they are important, what they need to know going forward as the standards go global, and future developments. Speakers include:
Stephan Loerke, CEO, WFA
Didier Beauclair, Strategy & Media Director, Union des marques
Max Schmidt, Digital Policy Manager, WFA
October 3 2019
Breaking down stereotypes through advertising: How to develop brand content free from outdated stereotypes
72% of men and women agree advertising perpetuates outdated stereotypes and fails to reflect the world around us. Meanwhile, progressive ads are 25% more effective. There is a moral and economic case for brands to do more.
Diageo and Unilever will share how to develop brand content free from outdated stereotypes and practical tips on how to help marketing and creative teams ask the right questions when developing creative brand work. Speakers include:
Gráinne Wafer, Global Brand Director Baileys, Diageo
Andrew Geoghegan, Global Head of Consumer Planning, Diageo
Nipa Shah, Senior Global Brand Director, Unilever
Melda Simon, Global Marketing – Unilever Brand, Unilever
They will share the dos and don'ts using live cases and examples of ads demonstrating where their companies got things right and talk candidly about where things could have been better.
October 2 2019
How can marketing change the world? Four ways in which marketing can be a force for positive change
"Four of the best presentations I've seen in this business...ever", said Airbnb's Geoff Seeley when judging these same
four presentations
back in March this year at Global Marketer Week in Lisbon.
By popular demand, the team is back! And you get to vote for your favourite...
With just ten minutes each, our four inspirational speakers will make the case for how they believe marketing can change the world:
Belinda Smith, Global Head of Media, Electronic Arts, on how marketing can promote ethnic diversity;
Adrian Lovett, President and CEO, World Wide Web Foundation, on how marketing can deliver a better worldwide web;
Paul Kemp-Robertson, co-founder, Contagious, on how marketing can be a force for good in society;
Jon Wilkins, Chairman, Karmarama, on how marketing can deliver meaningful human experiences.
September 25 2019
Cannes Deconstructed helps you understand the biggest marketing shifts that are shaping the world of advertising today.
Contagious
' Head of Advisory,
Patrick Jeffrey
will analyse the work that won the awards at Cannes - and share exclusive insights from the people who created it and the judges that awarded it.
Critically, it combines Contagious' unique perspective on the industry and draws out the implications for your business in the year ahead.
PAS | WFA PAST Webinar Series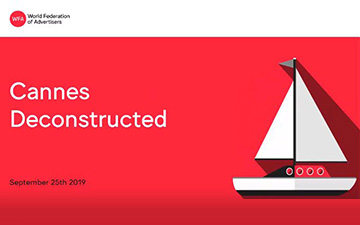 Global Media Charter
September 17 2019
Contagious Deconstructed
September 17 2019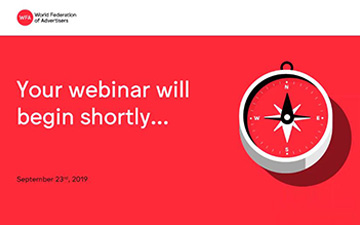 Breaking Down Stereotypes through Advertising
September 17 2019