World Advertising Trends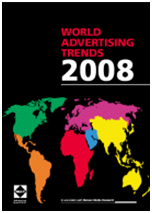 World trends in advertising expenditure 1998-2007
Country-by-country advertising expenditure statistics and charts
Size and share of total adspend for TV, magazine, newspaper,
cinema, radio, outdoor and internet advertising
Purchasing Power Parities (PPPs) for all major markets
All data available in Excel
New for 2008 – extended expert analysis
Detailed analyses using local currency units and US dollars in both current and constant prices allow easy comparison of ad spend between countries.
For the world major markets World Advertising Trends includes Purchasing Power Parities (PPPs) – rates of currency conversion that eliminate the differences in price levels between countries. The PPPs are given in national currency units per US dollar, making country by country comparison truer and more user-friendly.
With World Advertising Trends you can identify:
the largest and the fastest growing advertising markets
the fastest growing media
the best performing countries ranked by ad spend and ad spend growth
country-by-country comparisons of per capita advertising expenditure – total and by medium comparisons of advertising expenditures as a percentage of Gross Domestic Product, 1998, 2006 and 2007
FOR PAS MEMBERS:
Print + Electronic (PDF) + Excel spreadsheets: £301.50 + p&p (For Non-Members: £335.00 + p&p)
Print + Electronic (PDF) Edition: £234.00 + p&p (For Non-Members:£260.00 + p&p)
Electronic (PDF) Only Edition: £184.50 (For Non-Members: £205.00 + p&p)
.