What is Brand Equity, Anyway?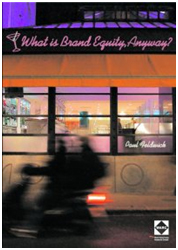 What people are saying about What is Brand Equity, Anyway?…
"This is a wonderful book. Paul is a thought leader who makes the rest of us think a great deal better. Agree or disagree, what matters is that he provides real substance for the grey matter. And it was a pleasure to read."     Tim Ambler, The London Business School
"It covers the key issues which advertising researchers – and behind them advertisers and ad agencies – worry about today. At last one of the most respected commentators on branding and advertising has put his considered and valuable advice between hard covers."
Simon Broadbent, BrandCon
"In probing the layers of fat that have slowly accumulated around the idea of brand equity he has made many other overweight concepts considerably lighter."
Wendy Gordon, The Fourth Room
What is Brand Equity, Anyway? is a must-read for those involved with creating, planning and researching effective brands and advertising. Advertising and marketing academics or anyone interested in the field of advertising and brand strategy should add this book to their collection.
What is Brand Equity, Anyway? explores the way in which brands work, the factors that define the making of a strong brand and how brand strength can be measured and monitored.
Part two takes this knowledge forward into creating a measurably successful advertising campaign.
"Advertising is an expensive business. Those who spend money on it should want to know what results they're getting. And those who plan and create it should want to find out if what they're doing is working; and how, and why it's working (or not), in order to learn how to do it better next time."
Feldwick is a master at raising, reasoning and resolving the questions that go to the very heart of the advertiser's raison d'être. If you are seeking to enter the holy of holies in the world of advertising reading a copy of What is Brand Equity, Anyway? is an advisable first step.
FOR PAS MEMBERS: £26.10 + p&p
For Non-Members: £29.00 + p&p
.