This Mother's Day – Emotional Lullaby on the high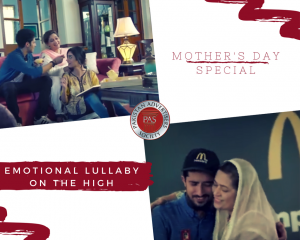 by Hassan Javed
Mother's Day has become a window of gauging emotional boiling points globally and Pakistani market is no different. With strong cultural values prevailing along with a staunch family system,there is no reason why the opportunity shouldn't be capitalized.
Over the years brands in Pakistan have engaged vigorously with audiences to leave a mark on target audiences in multiple ways. This time around Walls and McDonalds have recently launched campaigns carefully placed to capture attention of audiences with emotional masterstrokes. Within a few hours from launch both campaigns have locked humongous views and its already getting viral on social media. The campaigns have rightly used emotional appeal to link with the audience in Pakistan. The campaigns are strongly depicting the connection of mother with her child which Pakistani society specially possesses.
McDonalds Advert:

Employee of McDonalds is paying tribute confidently to his mother in-front of the audience comprising of mothers. He explains what role his mother played in his brought up as a normal person because being normal is something which is extraordinary. Climax comes in when scene pans out to the second employee of Mc Donalds standing beside him whose story is being narrated to the audience. He is confident and bold connecting with audience through his sign language which is the focal point of advertisement. As the interpretation goes on we can feel the emotions with in the advertisement which is why it touches hearts of everyone and can be considered as a good campaign for Mother's Day.
As narrated "Today, i may not be special but my mother is very special…Thank you Maa"
Mcdonald's honours all the mothers who work so hard for their children to stand on their feets against the odds
Complete Campaign:
The advertisement shows how parents in current age are coping with generation gap and usage of social media in current times. Parents now a days have gone really active on platforms like Facebook as it has become an integral part of life of their children. It is shown in the advert that how a mother is trying to reconnect herself with children via Facebook.
As the advert says " Kuch rishto main pyaar kabhi kam nahi hota, to phir celebrate karein Happy Mother's Day"