The Mental World of Brands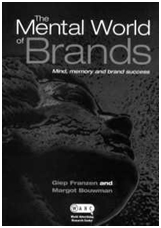 The Mental World of Brands provides a compelling new start point for developing better relationships between brand and consumer. It asks: how does the brain work? How does it form memories and associations, and how can we best use this knowledge to leverage brands and build brand equity?
The way people perceive advertising and how they remember it is critical to campaign and brand success. But is this taken into account when brands are developed, or advertising strategies drawn up? How they make associations and ascribe emotions and personalities to brands can make or break a new product or campaign. The Mental World of Brands examines the way in which mind and memory work, and how this understanding can be used to guide brand research and development.
The book brings together disparate strands of thinking into one accessible and easy-to-use volume. It shows how awareness is generated, how people put meanings to brands, and the importance of memory, emotion and language. It also discusses the use of brand research, not just as a separate academic area, but as an important part of the brand representation process.
Part One takes you to the caverns of the brain and provides a framework for the study of perception, learning, memory and recollection.
Part Two describes the brand-related information that is stored in people's memories. It examines brand awareness, brand meanings, brand emotions, positioning, brand attitudes and brand relationships.
Part Three is a practical overview of research techniques and how these can be applied specifically to brand representations. It shows how some methods are off target and how inappropriate use of research can be prevented.
Highly relevant to today's ultra-competitive market, this important book offers a well-constructed approach to brands and branding, and is vital reading for advertising and marketing professionals, marketing academics and everyone involved with brand research.
FOR PAS MEMBERS: £26.10 + p&p
For Non-Members: £29.00 + p&p
.