The Hidden Power of Advertising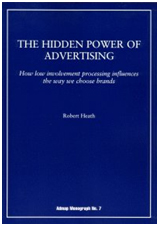 The way advertising works is not so transparent after all. Advertising does have some sort of hidden power which enables it to influence us without our realising it.
The Hidden Power of Advertising presents a radical new challenge to traditional thinking about the way consumers interact with and process brand communication.
For over 70 years the universal assumption has been that advertising is only effective if it consciously persuades consumers to choose a particular brand. In such circumstances attention is critical, which is why most of the advertising industry's creative resource is focused on achieving the highest possible levels of interest and awareness. But how is it that advertising can and frequently does work, even when consumers have no conscious awareness of having seen or heard the ads themselves?
Recent neuroscientific research has shown that the brain's capacity to absorb certain types of brand information is far greater than we ever imagined. Building on these findings, Robert Heath is able to explain with exceptional clarity how advertising creates meaningful and enduring brand associations in our minds, even when we pay virtually no attention to it. These associations exert a powerful influence on our intuitive feelings, and can unknowingly drive us to choose and buy particular brands.
This mechanism – low involvement processing – turns out to be an especially effective way of getting through to consumers, who in general have little or no interest in learning about brands. Heath shows that low involvement processing has been a major factor behind the success of mega-brands in markets as diverse as insurance, cars, toilet paper, cigarettes, and beer.
The Hidden Power of Advertising is a must-read for those involved with creating, planning and researching effective advertising, advertising and marketing academics, indeed anyone interested in the field of advertising and marketing communications.
FOR PAS MEMBERS: £40.50 + p&p
For Non-Members: £45.00 + p&p
.