The Advertising Budget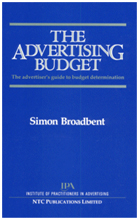 'An outstanding reference book for any advertiser to use when looking at a wide range of decisions about advertising' – Incorporated Society of British Advertisers.
This practical working guide, published with the Institute of Practitioners in Advertising, examines the whole of the budget setting process, from understanding the brand's budget to evaluating what the advertising campaign achieved. Action points at the end of each chapter summarise the work to be done. Examples and case histories provide illuminating and practical information on real life solutions.
FOR PAS MEMBERS: £26.10 + p&p
For Non-Members: £29.00 + p&p
.