Pre-Testing Advertisements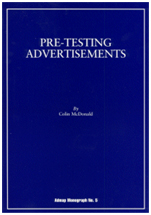 A valuable overview on the importance of advertisement pre-testing and how it should be used. This monograph reviews the main approaches to advertisement pre-testing used in Europe and the US and examines such issues as how people respond to advertisements and problems with diagnostic measures. The author provides guidance for users of pre-testing on how it should best be approached.
FOR PAS MEMBERS: £40.50 + p&p
For Non-Members: £45.00 + p&p
.