Meaningful Brands Study
Havas Media has recently released their longitudinal study on Meaningful Brands, where they assess the social responsibility, connection and the actual impact of most modern brands on human lives. The results are interesting, to say the least.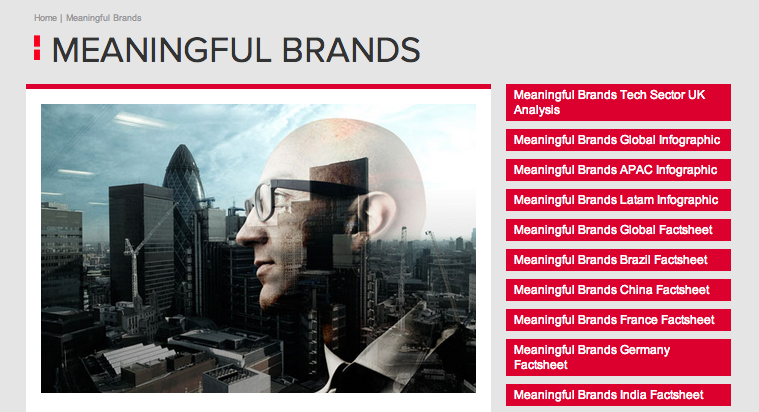 Meaningful Brands is the first global analytical framework to connect human well-being with brands at a business level. It measures the benefits brands bring to our lives. It's unique in both scale – 700 brands, over 134,000 consumers, 23 countries – and scope. It measures the impact of the brand's benefits alongside its impact on 12 different areas of well-being (such as health, happiness, financial, relationships and community among others) for a full view of its effect on our quality of life.
KEY FINDINGS OF MEANINGFUL BRANDS
– Most people worldwide would not care if more than 73% of brands disappeared tomorrow.
– Only 20% of brands worldwide make a significant, positive effect on people's well-being.
– People aren't looking for Utopian lives. Just better ones.
– The top Meaningful Brands outperform the market by 120%.
TOP 25 MEANINGFUL BRANDS
1 GOOGLE
2 SAMSUNG
3 MICROSOFT
4 NESTLE
5 SONY
6 IKEA
6 DOVE
7 NIKE
7 WALMART
8 DANONE
9 PHILIPS
10 P&G
11 ADIDAS
11 MERCEDES
12 SPRITE
13 VOLKSWAGEN
13 HONDA
14 LEROY MERLIN
15 UNILEVER
16 L'OREAL
17 STARBUCKS
17 ACTIVIA
18 COCA-COLA
19 TOYOTA
20 H&M
21 AUDI
22 APPLE
22 EVIAN
23 ZARA
24 HEINEKEN
25 LG
MEANINGFUL BRANDS GLOBAL INFOGRAPHIC